DWR Begins Scheduled Removal of West False River Emergency Drought Salinity Barrier
Published: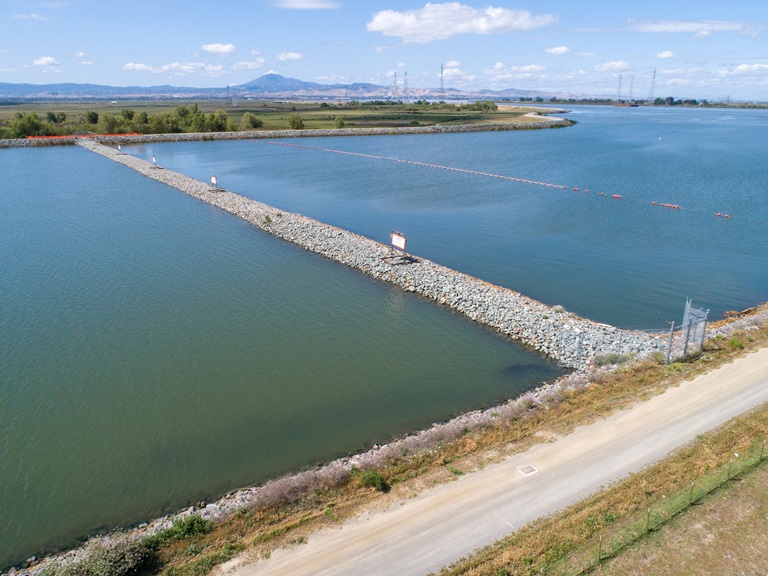 This week, the Department of Water Resources (DWR) began construction to remove the emergency drought salinity barrier from the West False River in the Sacramento-San Joaquin Delta, fulfilling the emergency project's permit requirements.
Since its construction in June 2021, the barrier fulfilled its mission of slowing the movement of saltwater into the central and south Delta and preventing contamination of water supplies for Delta agriculture, the environment, and fresh water supplies for millions of Californians.
Installation of the emergency drought salinity barrier is just one of many DWR actions taken to mitigate drought impacts consistent with Governor Newsom's April 21, 2021 emergency order directing state agencies to take immediate steps to bolster drought resistance across the state.
Removal of the barrier, which was initially scheduled for November 2021, was delayed in response to continuing dry conditions and low reservoir levels seen last year. By keeping the barrier in place for an additional year, water operators have been able to preserve critical water supplies in upstream reservoirs by avoiding the need to send large volumes of water into the Delta to repel salinity.
To remain consistent with permitting requirements, DWR has initiated construction to remove the West False River Emergency Drought Salinity Barrier. As California plans for a possible fourth dry year, DWR has already taken proactive steps to respond if extreme drought conditions continue.
"The barrier has been very helpful with Delta salinity management during the drought, and DWR is currently seeking approvals to install the barrier up to two times over the next 10 years if extreme drought conditions continue," said Jacob McQuirk, DWR principal engineer
This summer, DWR released a draft Environmental Impact Report (EIR) to analyze the environmental effects of installing a drought salinity barrier along the West False River twice within a 10-year timeframe (2023 to 2032), during which the barrier may be installed for up to 20 months. Doing so would improve long-term planning and provide the state with greater flexibility to respond to future droughts.
DWR expects to complete the Final EIR in early 2023 and will continue to coordinate with state and federal partners to monitor conditions in the Delta and assess the need for reinstallation.
For more information, visit DWR's Saltwater Intrusion and Drought Salinity Barriers webpage.