Lake Oroville Community Update - November 18, 2022
Published: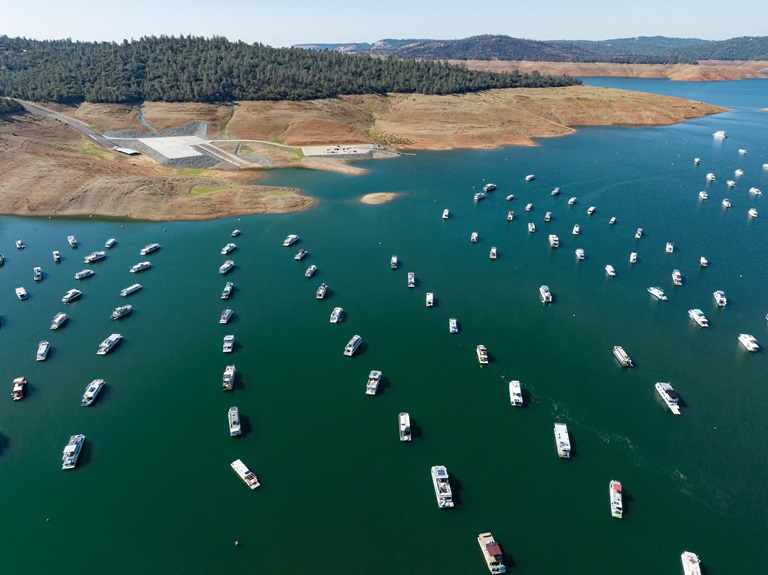 Lake Oroville Boat Ramp
The lowest paved Bidwell Canyon Stage III Boat Ramp is now closed due to low lake levels. The Department of Water Resources (DWR) has opened the gravel boat ramp at the Spillway. This ramp may be accessed from the Lakeside Access Road between Oroville Dam and the Spillway Day Use Area and Boat Launch. Four-wheel-drive vehicles are highly recommended – please use at your own risk.
The auxiliary ramp is gravel on dirt which becomes slippery when wet, especially during times of heavy usage. To maintain the integrity of the steep ramp, drivers are encouraged to avoid tire spin by engaging vehicles in 4-wheel drive and accelerating slowly when exiting the ramp, with or without a loaded trailer.
The Spillway gravel boat ramp is open 24-hours a day. Both the Lime Saddle and Bidwell Canyon marinas remain open from 8 a.m. until sundown with shuttle service and boat rentals available.
Feather River Fish Hatchery
Chinook salmon spawning operations have successfully concluded at the Feather River Fish Hatchery. The hatchery collected 9.5 million fall-run, 2.4 million spring-run, and 126,000 inland Lake Oroville Chinook salmon eyed eggs this year. The hatchery's spawning process collects eggs from female fish and milt (sperm) from male fish to fertilize the eggs. After fertilization, the eggs are placed in incubators to develop and approximately 30-days post fertilization, the healthy eggs develop eyes (eyed egg).
After the young salmon further develop in the incubators and reach the "fry" stage, they are transferred to long ponds filled with Feather River water called "raceways" to grow until they are large enough to be returned to the river or planted in locations further downstream to avoid predators. Planting operations for Chinook will occur March through June.
The Feather River Fish Hatchery is a California State Water Project (SWP) facility owned and maintained by DWR, which funds hatchery operations. The California Department of Fish and Wildlife (CDFW) operates the hatchery, including fish spawning, rearing, and stocking activities.
DWR built the fish hatchery to mitigate the impact of the Oroville Dam on Chinook salmon and steelhead populations because the dam blocks access to natural spawning grounds further upstream.
Control Burn at Loafer Creek
CAL FIRE, Butte County Fire Department, Plumas National Forest, DWR and California Department of Parks and Recreation (State Parks) are continuing control burn activities in the Loafer Creek Recreation Area near Lake Oroville. The goal of the control burn is to remove overgrown ladder fuels and dead and dying vegetation and minimize ground fuels to create a more wildfire resistant landscape.
Multiple burn areas were planned beginning Thursday, Nov. 17 and possibly continuing through the week of Nov. 21, depending on weather and incident activity in Butte County. Some intermittent trail closures in the Loafer Creek Recreation Area may occur. Trail users are advised to be "safety-aware" and obey posted trail closure signage. Smoke from the activity has been, and may continue to be, visible in the Oroville area.
DWR's Fuel Load Management Plan (FLMP) works to reduce wildfire risk and increase public safety around Lake Oroville. Previous FLMP projects in the Loafer Creek Recreation Area have been identified as contributing to the slowing of the 2020 North Complex Fire as it approached Kelly Ridge, increasing firefighters' ability to establish a secure fire line and preventing the fire from progressing. Ongoing management of this critical area remains a high priority for the FLMP.
Oroville Recreation
Boaters are reminded that power boats are allowed on the Thermalito South Forebay as well as the Thermalito Afterbay. A 5-mph speed limit for all boats is in effect on the Afterbay north of the Highway 162 bridge and near the brood ponds on the east side of the reservoir, with regular boating rules in effect south of the Highway 162 bridge. No motorized boating is allowed in the Thermalito North Forebay.
The Monument Hill facility at Thermalito Afterbay provides boat ramp access, restrooms, a picnic area, and beach. The Thermalito South Forebay facility has a two-lane boat ramp, parking, restroom, picnic tables, BBQs, shade trees, and a fish cleaning station.
The Lake Oroville Visitor Center is open Tuesday through Thursday, 9 a.m. to 5 p.m. (closed on Thanksgiving Day) and offers visitors numerous educational exhibits, a theater featuring videos about the building of Oroville Dam, walking and hiking trails, and a 47-foot-tall observation tower providing unsurpassed panoramic views of Lake Oroville, the valley, the foothills and Sierra Nevada, and the Sutter Buttes, known as the smallest mountain range in the world.
DWR and State Parks maintain over 92 miles of trails in the Oroville area. Trails and their permitted uses (hike, bike, horse, multi), day use areas, boat ramps, and other recreation facilities are featured on DWR's interactive Lake Oroville Recreation webpage.
The Feather River Fish Hatchery is open daily 8 a.m. to 3 p.m. with the Fish Barrier Dam Overlook area and underwater viewing window open sunrise to sunset.
Current Lake Operations
Oroville's reservoir is about 665 feet elevation and storage is about 1.07 million acre-feet (MAF), which is 28 percent of its total capacity and 57 percent of the historical average. Temperatures are forecasted in the upper-50s to low-to-mid-60s over the weekend and into next week with a slight chance of showers early in the week.
The Feather River releases are currently at 1,600 cubic feet per second (cfs) and meet the downstream Delta water quality and outflow needs. Flows through the City of Oroville are 650 cfs with 950 cfs released from the Thermalito Afterbay Outlet (Outlet) for a total of 1,600 cfs downstream of the Outlet. DWR continues to assess releases to the Feather River daily.
The public can track precipitation, snow, reservoir levels, and more at the California Data Exchange Center. The Lake Oroville gage station is identified as "ORO".
All data as of midnight 11/17/2022