DWR Completes Scheduled Removal of West False River Emergency Drought Salinity Barrier
Published: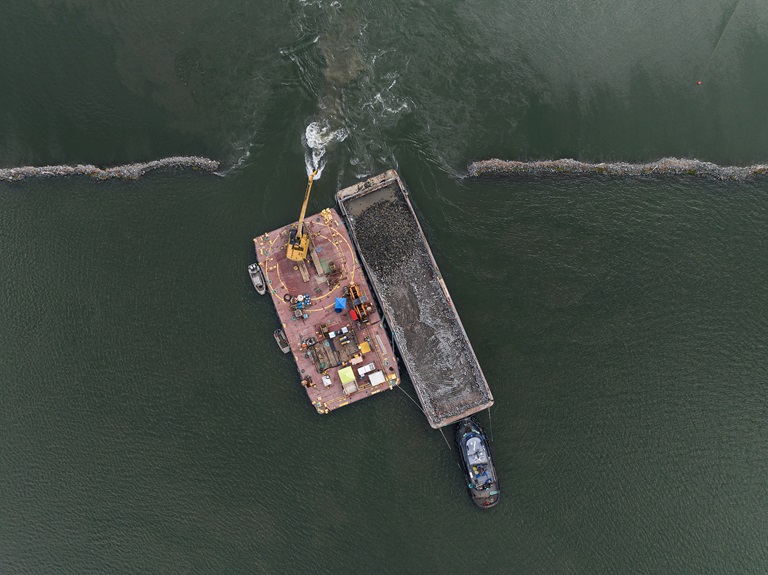 The Department of Water Resources (DWR) has completed the removal of a drought salinity barrier from the West False River in the Sacramento-San Joaquin Delta. The barrier was installed in June 2021 to prevent saltwater intrusion with less fresh water from upstream reservoirs and streams flowing into the Delta during California's ongoing extreme drought conditions. DWR was required to remove the structure by November 30 to comply with environmental permits.
"In normal conditions, the release of fresh water from upstream reservoirs keeps the salty ocean water from pushing into the Delta, but in extreme drought conditions that doesn't happen," said Jacob McQuirk, DWR principal engineer. "The barrier changes the plumbing so we're able to keep the Delta fresh while preserving upstream water supplies for other uses."
The barrier was initially constructed in response to Governor Newsom's April 21, 2021 state of emergency proclamation directing the Department to initiate actions necessary to prepare for and address potential Delta salinity issues during prolonged drought conditions.
Originally scheduled for removal in November 2021, the barrier was left in place when severe drought conditions continued into the winter months and beyond. DWR has now removed the barrier to comply with the terms of its environmental permits.
The removal of the barrier was completed several days ahead of the scheduled November 30 deadline. The West False River is now open for boat and marine navigation, with the channel fully restored to its pre-project condition.DWR water managers will continue to monitor conditions through the winter to determine whether and when the barrier might be needed again.
"California's water managers are always hoping for the best while preparing for the worst. While we hope for high flows this winter, DWR has already taken proactive steps to respond if extreme drought conditions continue," McQuirk said.
DWR is also looking at long-term solutions to saltwater intrusion in times of extreme drought. In accordance with the California Environmental Quality Act, DWR expects to complete a Final Environmental Impact Report (EIR) in early 2023 for installation of the barrier up to two times over the next 10 years if needed and will continue to coordinate with state and federal partners to monitor conditions in the Delta and assess the need for reinstallation.