DWR Apprentice Program Exams Available
Published: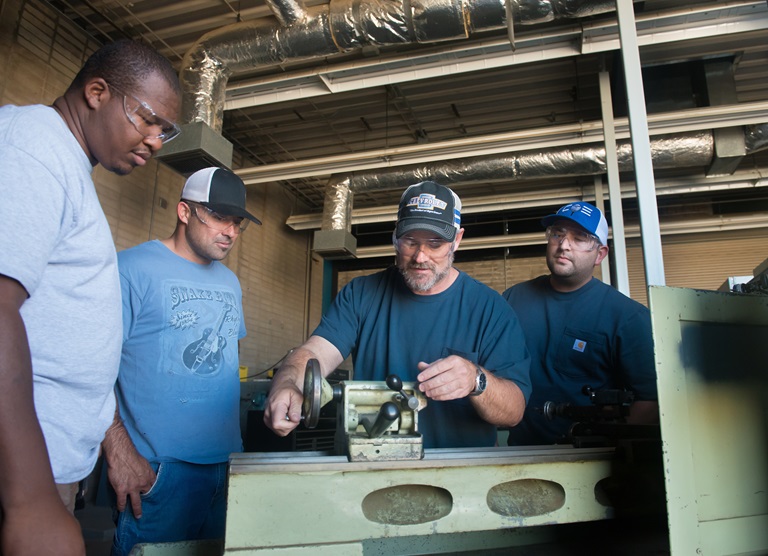 DWR's Operations and Maintenance Apprentice Program has released four exams in 2022 for the paid apprenticeship program as an electrician, operator, mechanic, or utility craftsworker. The exams, available from June 24 to 30th, are the first step to applying for a career in the hydroelectric industry.
Upon passing the written exam with a final score of 70 percent or better, applicants are placed on the eligible list and can apply for the apprenticeship program's position openings. Vacancies are posted on CalHR's website, usually in July. Apprentice classes are hired together, one time per year, in January.
The program consists of three interconnected components. Along with supervised on-the-job training with rotational opportunities at different facilities throughout California, the program offers classroom instruction and home coursework. The four apprenticeships assist journeyperson in the various trades to complete some of the following tasks for the State Water Project.
Utility Craftsworker

(3 years) works in the repair, operation, modification, replacement, inspection, and maintenance of major civil structures and related utility equipment.

Hydroelectric Plant (HEP) Electrician (

4 years) works on the installation, repair, and maintenance of wiring circuits for electrical equipment, motors, and control devices.

Hydroelectric Plant Mechanic

(4 years) works on the repair, disassembly, and assembly of large and complex equipment, such as piping systems, pumps, turbines, motors, generators, compressors, and air conditioning systems.

Hydroelectric Plant Operator

(3 years) operates and controls aqueduct facilities and hydroelectric generating and pumping plants.
During first two years, participants receive instruction and complete most tasks under supervision. In the later years, apprentices perform more complex tasks, demonstrating the knowledge, skills, and abilities required on the job. Participants are continuously evaluated and must pass a series of exams to progress through the program.
After completion, graduates will receive a full-time journey-level position with DWR in their learned trade. Graduates are certified through the Department of Industrial Relations and receive a Certificate of Completion in their trade.
To apply for exams, visit apprentice exam announcements on the website for HEP Operator, HEP Mechanic, HEP Electrician and/or Utility Craftsworker. Applicants who meet qualifications may apply for more than one exam.
For more information please contact the Joint Apprenticeship Committee (JAC) Secretary at 916.820.7726 or view the apprenticeship program webpage.