One Year Later, DWR Has Provided Nearly Half a Billion in Drought Relief to Communities
Published: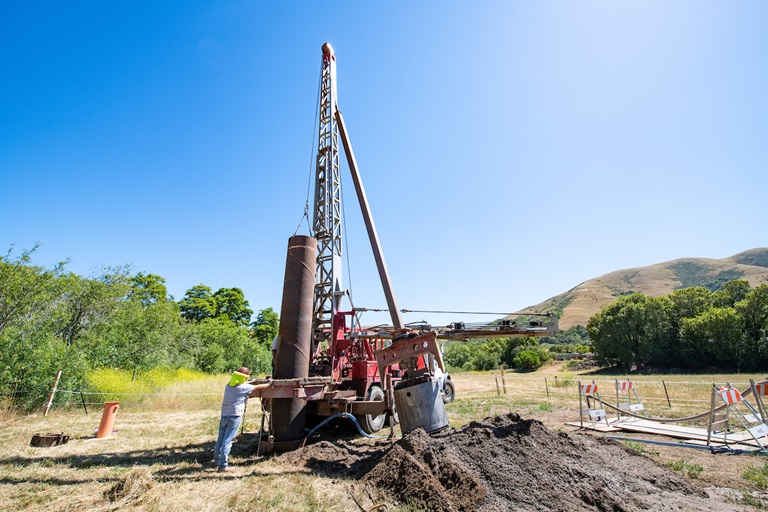 A year after receiving funding from the Budget Act of 2021, the Department of Water Resources (DWR) has successfully awarded more than $440 million to date in drought relief assistance to small and urban communities to address water supply challenges and help build local resilience.
The Budget Act of 2021 allocated $500 million in total drought-relief funds to DWR following extreme dry conditions and Governor Newsom's statewide drought emergency declaration. Of the $500 million, $200 million was dedicated for the Small Community Drought Relief Program and $300 million for the Urban and Multibenefit Drought Relief Program. Both programs help address drought impacts in small and urban communities and have awarded funds to more than 200 projects statewide.
"Managing California's water supply means considering the health and safety needs of our communities, as well as providing the resources they need to overcome these dry conditions," said DWR Director Karla Nemeth. "Our staff has done a remarkable job expediting the grant process to deliver financial support to our communities who need it most."
Small Community Drought Relief Program
The Small Community Drought Relief Program, which helps communities not served by an urban water supplier, awarded $175 million to 89 projects over seven phases of funding. The projects were identified by DWR in coordination with the State Water Resources Control Board and prioritized investing in long term solutions such as providing reliable water supply sources, improving water system storage, replacing aging infrastructure, and arranging alternative power sources. The grant program also established county-wide hauled and bottled water programs to provide an immediate water supply to residents who ran out of water due to the drought. Since funds were awarded, some recipients have begun planning and construction including:
The City of Orland in Glenn County

: Last summer, over 100 private domestic wells were reported as dry or at risk in and around the city of Orland. The city originally received $7,735,000 during phase two of the Small Community Drought Relief Program to increase water supply capacity and expand the water distribution system to rural residents. Following a revised scope of work, the city was awarded an additional

$8,978,400 from the program to ensure that all 150 households identified could be connected to the new water system. Construction for the project is expected to begin in January 2023.

The North Marin Water District in Marin County

: The district received $464,019 during phase five to address saltwater intrusion in the wells serving the West Marin community. The district began drilling a new well and pipeline

in early June that will supply the community with an additional clean water supply.
View the full list of projects funded by the Small Community Drought Relief Program.
Urban and Multibenefit Drought Relief Program
To help urban communities address drought impacts, the Urban and Multibenefit Drought Relief Program awarded $268 million to 126 projects over three phases of funding. All three phases included set-aside funds for underrepresented communities and Tribes. The selected projects address immediate drought impacts on human health and safety like improving water supply reliability, drinking water quality, and supporting water conservation. With financial support from DWR, some of the projects expected to start and or finish construction this year include:
The City of Fort Bragg in Mendocino County:

Last summer, the city declared a Stage 4 water crisis as a result of drought conditions in the Noyo River. To strengthen long-term resilience for current and future droughts, the city was awarded $8,797,500 from the first phase of awards to reinforce a critical raw water supply line that supplies over half the water used by the city. Construction will begin in July.

The San Pasqual Duro Community Waterline Project in San Diego County:

The project received $1 million from the second phase of awards to construct a new water main and two pump stations. The new infrastructure will support the Duro Community on the San Pasqual Band of Indians Reservation by allowing the Tribe to access 16,000 acre-feet per year through an established agreement with Valley Center Municipal Water District. Construction is expected to begin in November.

The Lost Hills Utility District in Kern County:

The district received $1,341,040 from the first phase of awards to construct a new well. The newly constructed well will

extract 800 gallons per minute and will connect to the district's existing water treatment and distribution system to supply the community of Lost Hills. Construction is expected to be completed in September.
Drought Relief Funds Support Wildlife, Ecosystems
In addition to providing critical support to communities, the State is also supporting wildlife and ecosystems during the drought.
DWR contributed $8 million in multi-benefit drought relief funds to the California Rice Commission to support a special Drought Relief Waterbird Program to help respond to immediate drought impacts that are creating a loss in migratory waterfowl habitat in the Sacramento Valley. Response to this program was overwhelming, with more than 50,000 acres of shallow flooded habitat on Sacramento Valley rice fields added to support migratory waterbird this past winter. In response to the success seen last winter, a spring/summer program has launched to support food production for ducks.
In addition to supporting birds, DWR is also taking steps to protect California's salmon population through habitat restoration, carcass studies, and migration improvements. Visit DWR's Protecting California's Salmon StoryMap to learn how DWR is collaborating with partners to support salmon during the drought.
As California prepares for warmer temperatures and the potential of a fourth dry year driven by climate change, the State remains committed to tracking ongoing impacts of the drought and is working to identify solutions to protect communities and wildlife alike.
The full list of projects funded by DWR's drought relief programs can be viewed here. For more information on DWR and State drought response efforts and funding programs, visit: drought.ca.gov.