Lake Oroville Community Update - December 16, 2022
Published: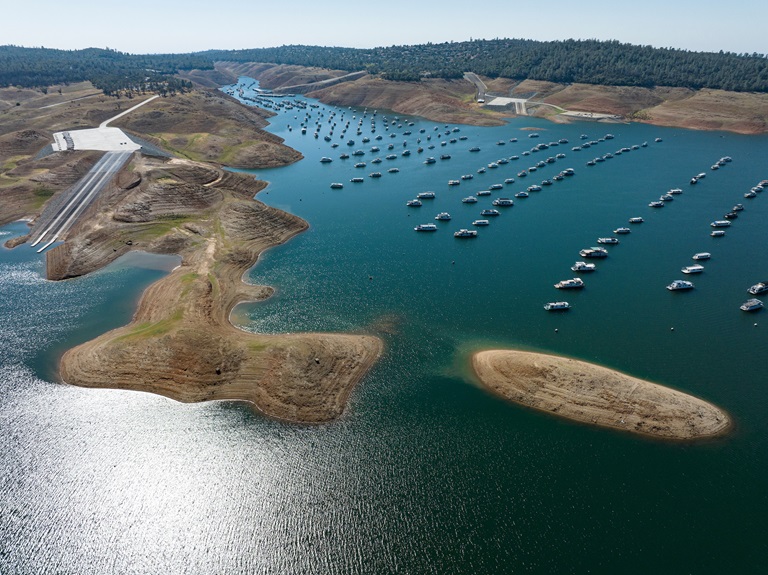 Paved Boat Ramp Reopens
Thanks to recent rain showers in the valley and feet of snowfall in the Sierra mountains, water levels at Lake Oroville have risen enough to reopen the Bidwell Canyon concrete boat ramp. With Bidwell Canyon reopened, the gravel spillway ramp is now closed.
The California Department of Parks and Recreation (State Parks) has provided a floating dock for users at the ramp along with portable restroom facilities. Both the Lime Saddle and Bidwell Canyon marinas are open from 8 a.m. until sundown with shuttle service and boat rentals available. Paved boat ramps are also available at the Thermalito Afterbay and the Thermalito South Forebay.
Hunting at Oroville Wildlife Area
With approximately 11,800-acres of forested upland and riparian habitat along the Feather River and around the Thermalito Afterbay, the Oroville Wildlife Area is open for hunting with most hunters pursuing waterfowl at the Afterbay. Some interior ponds have also filled with enough water to permit duck hunting, while upland hunters have had success harvesting quail, squirrels, and rabbits this time of year.
In the spring, California Department of Fish and Wildlife (CDFW) will draw permits for special turkey hunt opportunities including the Junior Hunt weekend, and the first, third, and fifth weekends and Wednesdays of the spring season. Turkey hunting is not permitted in the fall at the Oroville Wildlife Area.
Oroville Wildlife Area is a "Type C" wildlife area (hunting pass not required) and is open for hunting seven days a week with entry hours limited from 1.5 hours before sunrise to one hour after sunset. No rifles or pistols may be used or possessed on the wildlife area except at the designated shooting range (Rabe Rd. Shooting Range off Larkin Rd.; open seven days a week from sunrise to sunset). Lead ammunition cannot be used while hunting in California.
Winter Outlook
Even with the Northern Sierra snowpack measuring 180 percent of normal as of Dec. 15, the Department of Water Resources (DWR) is reminding the public of ongoing drought conditions throughout California.
As the state enters its fourth year of drought, California Water Watch shows most of the state is still in moderate, severe, or extreme drought conditions, and the state's groundwater basins and environments are still stressed from years of severely dry conditions. While early season precipitation totals may be cause for cautious optimism, last year's above average December was followed by historic dry conditions January through March. This early in the winter, California must proceed with caution and continue to embrace solutions proposed in the Newsom Administration's Water Supply Strategy for Adapting to a Hotter, Drier Future.
The National Oceanic and Atmospheric Administration (NOAA) is predicting a La Niña winter with dry conditions in Southern California and equal chances of wet or dry conditions in central and northern parts of the state. Early snow totals are only helpful if they translate into runoff into the state's streams, rivers, and reservoirs, particularly in the spring and summer months.
DWR is investing in several new tools to both predict and capture runoff, such as investing in additional Airborne Snow Observatory flights and improving runoff forecasting abilities with more sophisticated data collection. While the winter season has started positively, the most important measurement of the year will be April 1, when the snowpack is typically at its highest. You can track precipitation and snowpack data on the California Data Exchange Center website.
Vegetation Management Activities Continue in Oroville Area
DWR continues vegetation management and debris cleanup activities around the Feather River Fish Hatchery to remove overgrown ladder fuels and create a more wildfire resilient landscape. In addition, CAL FIRE, Butte County Fire Department, and the California Conservation Corps (CCC) Butte Fire Center continue pile burning activities in the Loafer Creek area and along Oro Dam Boulevard East near the Hyatt Powerplant. Over the next couple weeks, the CCC Chico crew will be cutting and piling material along Canyon Drive to reduce overgrown vegetation near the community of Kelly Ridge.
Vegetation management activities will continue through the winter, weather permitting. Smoke from pile burning activities will continue to be visible in the Oroville area.
DWR's Fuel Load Management Plan (FLMP) works to reduce wildfire risk and increase public safety around Lake Oroville. Previous FLMP projects in the Loafer Creek Recreation Area have been identified as contributing to the slowing of the 2020 North Complex Fire as it approached Kelly Ridge, increasing firefighters' ability to establish a secure fire line, and preventing the fire from progressing. Ongoing management of this critical area remains a high priority for DWR and local partners.
Oroville Recreation
The Bidwell Complex, located along the southern shore of Lake Oroville east of the Oroville Dam, is one of the major attractions in the Lake Oroville State Recreation Area. It's a popular fishing and day use area as well as a base for many boaters. The location has drinking water; eight flush toilets (two are ADA accessible); a grey water sump; boat ramps at high, medium, and low reservoir levels; a telephone; a visitor information station; a full-service marina; and a fish cleaning station.
Bidwell Canyon Campground has 75 campsites for either tents or RVs, all with full hookups. Two flush restrooms, piped water, six showers, shade trees, and fire rings with grills are available. Nearby hiking trails include the 4.9-mile Bidwell Canyon Trail and the Wyk Island Trail.
The Lake Oroville Visitor Center is open Tuesday through Thursday from 9 a.m. to 5 p.m. and offers visitors numerous educational exhibits, a theater featuring videos about the building of Oroville Dam, walking and hiking trails, and a 47-foot-tall observation tower providing unsurpassed panoramic views of Lake Oroville, the valley, the foothills and Sierra Nevada, and the Sutter Buttes, known as the smallest mountain range in the world.
DWR and State Parks maintain over 92 miles of trails in the Oroville area. Trails and their permitted uses (hike, bike, horse, multi), day use areas, boat ramps, and other recreation facilities are featured on DWR's interactive Lake Oroville Recreation webpage.
Current Lake Operations
Oroville's reservoir is about 669 feet elevation and storage is approximately 1.03 million acre-feet (MAF), which is 29 percent of its total capacity and 57 percent of the historical average. Temperatures for the coming week will vary between the mid-50s and low-60s, with a slight dip into the 40s possible this Monday.
The Feather River releases are currently at 950 cubic feet per second (cfs). Flows through the City of Oroville are 650 cfs with 300 cfs released from the Thermalito Afterbay Outlet (Outlet) for a total of 950 cfs downstream of the Outlet. DWR continues to assess releases to the Feather River daily.
The public can track precipitation, snow, reservoir levels, and more at the California Data Exchange Center. The Lake Oroville gage station is identified as "ORO".
All data as of midnight 12/15/2022