A Summer of (Eco)Restoration
Published:
Summer 2022 is a season of ecological restoration for the Department of Water Resources (DWR).
From June 23 to July 14, 2022, DWR and partners celebrated four multi-benefit restoration projects taking place in California's Central Valley including the Sacramento-San Joaquin Delta (Delta), Suisun Marsh, and Yolo Bypass region. Each of these projects have the capacity to deliver multiple benefits that include habitat restoration, supporting endangered species, flood risk reduction, or public access.
"As a third year of dry conditions continues to stress California's natural systems, these projects become even more vital," said DWR Director Karla Nemeth. "Drought and climate change have elevated the importance of multi-benefit projects because dry conditions and warmer temperatures elevate flood risk and negatively impact vegetation and wildlife."
Each of these restoration projects support California's two largest surface water delivery projects, the State Water Project (SWP) and the federal Central Valley Project (CVP). The SWP provides drinking water for 27 million Californians and irrigation water for large portions of the state's $50 billion agricultural industry. The SWP helps California manage its water supply during extremes such as flooding and drought, and it is also a major source of hydroelectric power deliveries for the State's power grid.
Each of the four projects are part of California EcoRestore, a multi-agency initiative launched in 2015 to advance at least 30,000 acres of critical habitat restoration and enhancement in California's Central Valley.
Currently, EcoRestore includes over 30 projects representing an investment of nearly $500 million to date. EcoRestore projects are funded by multiple sources, including the State Water Contractors, and funding allocated to restoration, multi-benefit, and flood needs through bonds, propositions, general fund, and other special funds. The overall estimated cost to complete the current list of 32 EcoRestore projects is $750 to$950 million with approximately half from the State Water Project and half from other funding sources. Not all EcoRestore projects are mitigation for SWP and CVP operations.
Below are summaries of the four EcoRestore projects that were celebrated this summer.
DWR and the U.S. Bureau of Reclamation partnered on the "Big Notch Project," officially titled the Yolo Bypass Salmonid Habitat Restoration and Fish Passage Project. Big Notch is a 30,000-acre floodplain habitat restoration and fish passage project in the Yolo Bypass. The project will expand floodplain rearing habitat for juvenile salmon and improve access through the bypass for salmon and sturgeon, which is pivotal to the recovery of these threatened and endangered fish species.
Big Notch takes place in the Fremont Weir State Wildlife Area in Yolo County. Part of the massive project includes the removal of a section of the Fremont Weir, the installation of three gates, the excavation of 180,000 cubic yards to carve a new path for the salmon, and construction of a control building as well as a pedestrian bridge.
When construction completes in late 2023, the gated passage, or notch, will be opened when the Sacramento River is high enough to use the Yolo Bypass as a floodplain. The water will enter the bypass through the notch at Fremont Weir and create a shallow water floodplain for fish to easily migrate through the area. Juvenile salmon will have a habitat to feed in a food-rich area for a longer time, allowing them to grow rapidly in size and improve their chances of survival as they travel to the Pacific Ocean. Adult salmon and sturgeon will benefit from improvements that will reduce stranding and migratory delays due to passage barriers.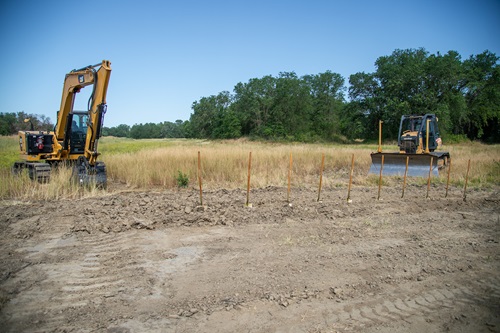 DWR and Ecosystem Investment Partners (EIP) have teamed up on the Lookout Slough Tidal Habitat Restoration and Flood Improvement Project, a multi-benefit effort to restore the 3,400-acre site to a tidal wetland. The project will create a habitat and produce food for Delta Smelt and other fish species while also creating new flood capacity in the Yolo Bypass and reducing overall flood risk in the Sacramento area. When complete, this will be the largest tidal habitat restoration project in California history.
The Lookout Slough project is in Solano County west of Liberty Island Ecological Reserve in the Sacramento-San Joaquin Delta. Part of the massive project includes:
Constructing a new, 25-foot-tall setback levee
Excavating 20 miles of open tidal channels
Restoring native habitat through grading, fill placement, and natural revegetation
Degrading the Shag Slough Levee to match the elevation of a 10-year storm event
Breaching exterior levees at multiple locations around the site
When construction completes, expected late 2024, the site will provide flood protection benefits by expanding flood conveyance and storage for the Yolo Bypass. The Lookout Slough project expands conveyance for the Yolo Bypass by creating 40,000 acre-feet of flood storage to prevent dangerous flooding and protect neighboring communities and infrastructure.
Beyond the benefits to fish, habitat, and flood protection, there will also be recreational opportunities at the site. Following construction completion, the public may access the new tidal channels for wildlife viewing, fishing, and hunting.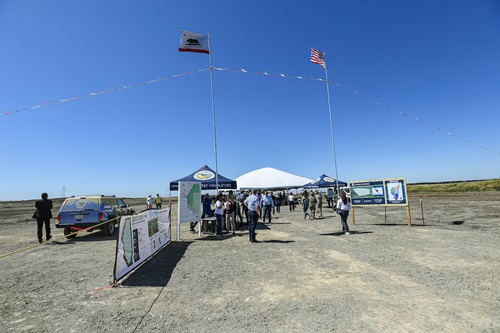 The Bradmoor Island Restoration Project aims to restore approximately 490 acres of managed wetland into a tidal marsh. Located in the Suisun Marsh southeast of Suisun City, the work at Bradmoor Island is designed to provide high-quality habitat and food sources for fish in the Sacramento-San Joaquin Delta. One of the primary beneficiaries of the project is the endangered Delta smelt.
Prior to starting construction, actions were taken to control invasive species to prepare the site for restoration. Construction at Bradmoor Island is expected to begin August 2022 and includes demolition of infrastructure and buildings, removing two interior levee segments, and excavation of five levee breaches to restore tidal flow to the site.
Beyond the benefits to fish, habitat, and adaptation to climate change, there will also be recreational opportunities at the Bradmoor Island location. Once construction is completed, there will be increased public access to the site through creation of new navigable waterways for fishing, boating, hunting, kayaking, and other public uses.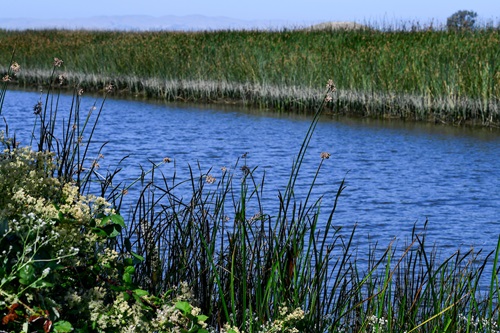 Adjacent to the Bradmoor Island project in the Suisun Marsh is the Arnold Slough Restoration Project. The construction of the Arnold Slough project began in summer 2021 and was completed in the fall of 2021. The project restored approximately 161 acres of managed wetland into a tidal wetland.
Due to the pandemic, a groundbreaking event was not held for the Arnold Slough project, so it was celebrated during Bradmoor Island's groundbreaking event. This joint celebration was appropriate, since restoration work at Bradmoor Island and Arnold Slough took place under the same construction contract and permits. Both projects are seen as one large project that was split over two years. During the Bradmoor Island and Arnold Slough Restoration Celebration, in July 2022, positive results of Arnold Slough's restoration work can be seen with the growth of native vegetation and tidal inundation.
Construction work included infrastructure demolition, three levee breaches, filling ditches to marsh plain elevation, and grading down exterior levee segments to allow overtopping at high tides. The work done at Arnold Slough also provides climate change resilience by accommodating sea level rise.
Along with benefiting endangered Delta smelt, the project supports many native species of birds and other wildlife who call the Suisun Marsh home.