Amid Drought Conditions, DWR Provides Support to Communities Throughout the Central Valley
Published: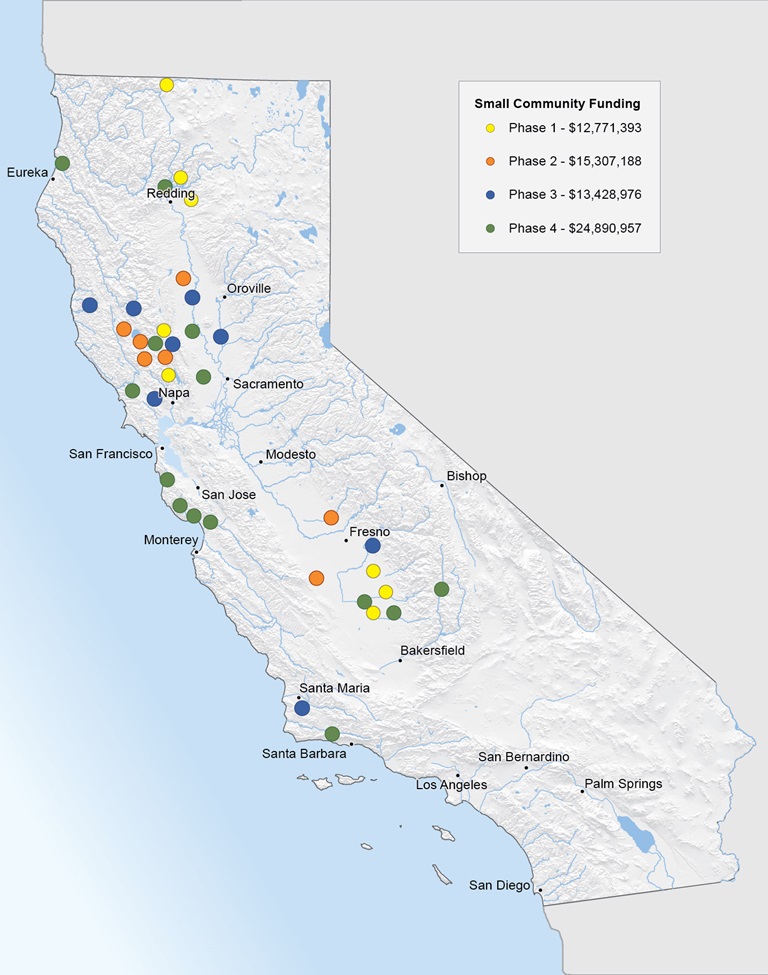 California and much of the Western United States is in the midst of an unprecedented drought intensified by climate change. The Department of Water Resources (DWR) is taking immediate action to support California's small and rural communities now, while also preparing for the potential of a third dry year.
DWR has awarded approximately $65 million in Small Community Drought Relief funding in more than 16 counties across the state since the program's inception earlier this summer. Of the awarded funding so far, nearly a quarter has been committed to nine projects in the Central Valley that will focus on strengthening the region's drought resilience to help withstand current and future droughts. From pipeline and infrastructure repairs to new wells, the funding will improve water security for communities that need it most.
In Fresno County, the City of Orange Cove will receive $7.7 million to replace 4 miles of leaky pipelines, construct a new well, storage tank, and booster pump station. The City of Huron received $4.2 million to replace over four miles of aging, leaking pipelines that provide water from the Central Valley Project.
In Tulare County, the Teviston Community Services District received $3.9 million to install a new well, storage tank and backup generator. The Walker-Mangiaracina State Small Water System was awarded $397,000 to extend an existing water main and connect additional homes to the system. The Ducor Community Services District received $1.1 million to replace a leaking water storage tank. The Woodville Public Utility District will receive $2.2 million to lower their well pump, install a new storage tank, and booster pump station.
The Pixley Public Utility District will receive $1.9 million to rehabilitate the existing well, install a backup generator and place leaking water mains. The Ponderosa California Special District received $101,000 to install two new 20,000-gallon tanks. Additionally, in Madera County, the Madera Ranchos- Maintenance District 10A received $300,000 to complete urgent repairs to two of the wells which will add 1,000 gallons per minute of pumping capacity.
In addition to providing communities with financial support, DWR is working with those who rely on State Water Project supplies to navigate the drought and prepare for future dry conditions.
The extreme hydrology will require DWR to prioritize health and safety needs for its 29 water contractors in 2022. DWR is working with the water contractors to identify the amount of water necessary to meet basic water supply needs. For those communities that rely on primarily SWP water and are experiencing shortages, the Department is working with its contractors to find additional water supply to help those communities in need. If the hydrology improves in the months ahead, DWR will re-assess potential deliveries.
For more information on DWR's drought relief funding, visit the Small Community Drought Relief Program or Urban and Multibenefit Drought Relief Program webpages. To learn more about the State's drought response, visit drought.ca.gov.