DWR Highlights Indigenous Cultural Burning Practices in Central Valley Film Showcase
Published: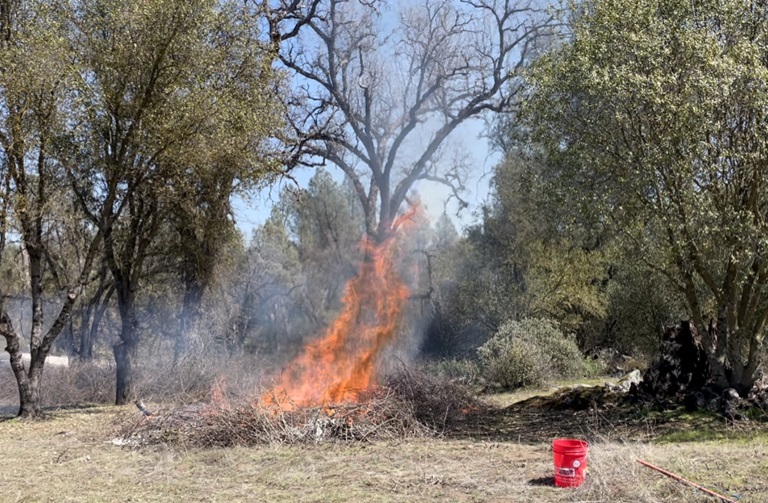 DWR, in collaboration with the North Fork Mono Tribe and Sonoma State University, joined nine other filmmakers in debuting a documentary at a Central Valley film showcase in November.
Hosted by the Central Valley Community Foundation, The Big Tell is a film contest that awards 10 applicants $5,000 to produce a five minute documentary in three months to highlight untold stories in the region.
After learning about the showcase, DWR Tribal Liaison, Emily Alejandrino immediately had a subject in mind to document: indigenous cultural burning. As one of many tribal liaisons with the Department, Alejandrino is no stranger to collaborating with Tribal partners. One of those partners includes Ron Goode, the North Fork Mono Tribal Chairman. The team partnered with Dr. Erica Tom, director of Native American Studies at Sonoma State, to helm the camera, documenting the relationship between fire, the land, and the North Fork Mono Tribe.
Titled Good Fire, Tom's mini documentary follows Chairman Goode as he organizes an annual cultural burn to restore Central Valley land. For Chairman Goode, indigenous cultural burning is new terminology; however, using fire as a tool in land management has been done for thousands of years in indigenous communities. This is just one of the lessons Alejandrino hopes viewers will take away when watching the film.
"Most people have the idea that fire only causes destruction, but the work being done by the North Fork Mono Tribe shows that good fire does exist and can be utilized to benefit our environment," said Alejandrino. "I hope this film inspires others to learn more about traditional ecological knowledge and what we can learn from our Tribal partners."
Traditional ecological knowledge (TEK) refers to information about relationships between people, the ecosystem, or activities that is passed by indigenous communities over generations. Cultural burning is one example of TEK, providing environmental benefits like restoring meadows or revitalizing soil for plants to grow stronger.
Cultural burning can also be used to reduce wildfire risk in areas with overgrown vegetation. In addition to land management, information gained through TEK can help influence decisions regarding climate change, species management, or comprehending the natural world.
Good Fire and the other films aired on Fresno's local news station KSEE-24 on Nov. 27. and can currently be viewed on DWR's YouTube channel.
In recognition of Native American Heritage Month, learn more about DWR's partnerships and coordination with California Tribes at water.ca.gov/About/Tribal-Policy.