A Late Christmas Gift Arrives for Lake Oroville Fish
Published: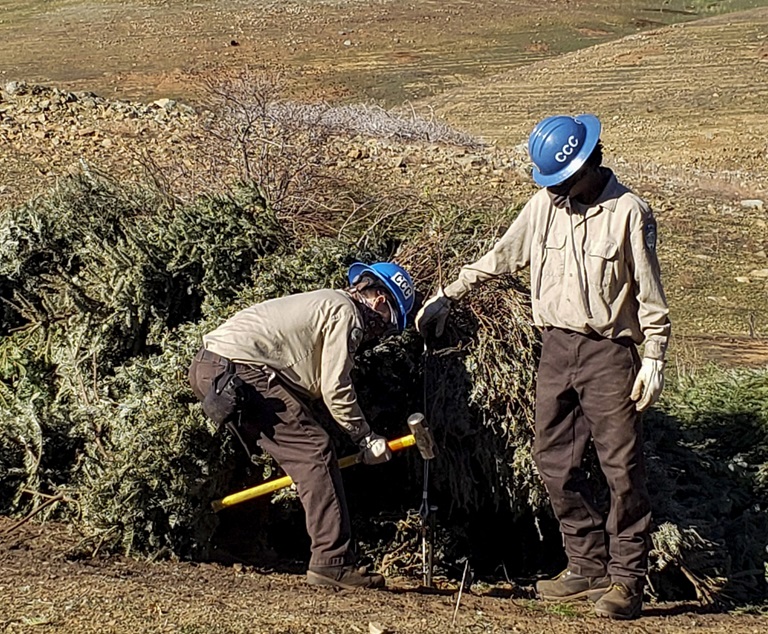 The Department of Water Resources (DWR) completed its yearly post-holiday tradition of recycling Christmas trees into prime habitat for fish species at Lake Oroville and the Thermalito Afterbay.
DWR's Oroville Field Division and their local partners collect the trees and bundle them together as habitat structures that provide juvenile fish shelter to conceal themselves from predators. Providing these small fish with safe refuge areas boosts their chance of survival, thereby increasing fish populations in Lake Oroville and the Thermalito Afterbay.
The Christmas tree collection was led by Butte County's Boy Scout Troop 2 of Chico, which collected more than 950 Christmas trees on Jan. 9 from Chico-area residents. Trees were also collected from the nearby communities of Biggs, Live Oak, Gridley, and Richvale by the Biggs 4-H Club.
"For over 25 years, DWR has worked with local groups to construct fish habitat structures -- one of the longest running fish habitat improvement programs in California," said DWR Environmental Section Chief Eric See.
Recology, a local waste management company, donated the loading and transport of the trees to Lake Oroville's Loafer Creek State Recreation Area and the Thermalito Afterbay. This year, the program was a challenge for DWR and local partners due to COVID-19 pandemic restrictions. Social distancing, especially in group gatherings, and mask wearing protocols were followed so the collection could take place.
The California Conservation Corps (CCC) worked for two weeks in January to construct the trees into habitat structures. Crew members use a system of cable and duckbill anchors to assemble and anchor the structures in suitable areas of Lake Oroville and prepare trees for deposit into the Thermalito Afterbay. The California Department of Fish and Wildlife (CDFW) will deposit the trees into the Thermalito Afterbay this spring.
"Installing the trees as underwater habitat will enhance fish survival and provide the area with improved recreational fishing opportunities for largemouth bass, spotted bass, channel catfish, bluegill, and green sunfish," said DWR Environmental Scientist Kryssy Mache who oversees the program.
DWR is committed to continuing this program and other innovative methods of improving the fish habitat at Lake Oroville and the Thermalito Afterbay and thanks the community and our partners for their continued participation.