Lake Oroville Community Update - January 8, 2021
Published: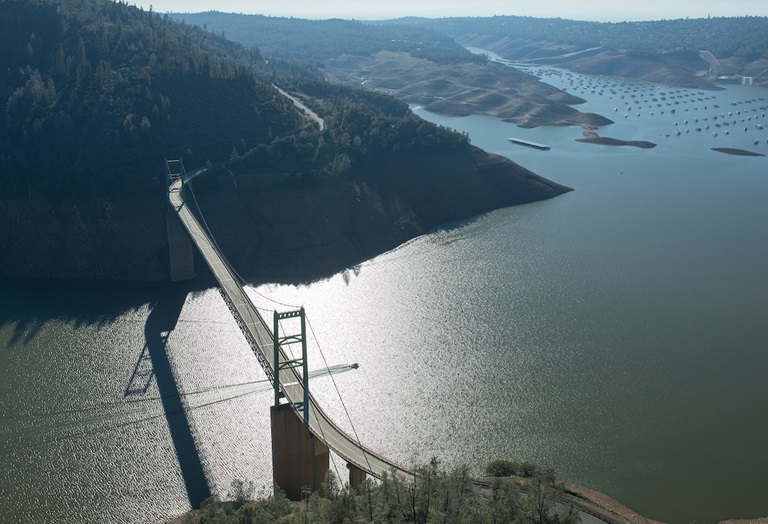 Snow Survey
The Department of Water Resources (DWR) conducted its first Phillips Station snow survey on Dec. 30. The manual survey recorded 30.5 inches of snow depth and a snow water equivalent of 10.5 inches, which is 93 percent of the Jan. 1 average for this location. The snow water equivalent (SWE) measures the amount of water contained in the snowpack and is a key component of DWR's water supply forecast. On average, the Sierra Snowpack supplies about 30 percent of California's water needs through spring snowmelt which feeds rivers and eventually reservoirs and aqueducts where it can be stored for use throughout the dry season. Statewide monitoring stations indicate that the state's snowpack SWE is five inches, or 52 percent of the December 30 average. More information about the snow survey is available on the DWR website. A link to the news release can be found on the DWR News Release webpage.
Oroville Recreation and Boating Access
Construction of the Bidwell Canyon Stage II boat ramp project, expanding the parking area and providing two additional boat ramp lanes to allow launching when the lake drops as low as 700 feet elevation (above sea level), is nearly complete. The boat ramp is currently open daily with a closure scheduled for Monday, Jan. 11 from 7 a.m. to 2:30 p.m. Continued intermittent closures to finish placing rock on the slope and to stripe the access road, parking lot, and boat ramp are anticipated in the coming weeks. The auxiliary gravel boat ramp at the Oroville Dam Spillway boat ramp area remains open daily to experienced drivers of 4-wheel drive vehicles only from 6 a.m. to 8 p.m. Current boat ramp information is available at 916-213-5205.
Area trails and day use areas are open for hikers, bikers, and equestrians. Information on trail restrictions and access status can be found in DWR's interactive map on the Lake Oroville Recreation webpage. Visit the California Parks Lake Oroville State Recreation Area (LOSRA) webpage for current information on facility status as well as current requirements to protect public health during the COVID-19 pandemic.
For information about the Oroville Wildlife Area, including the Thermalito Afterbay, visit the California Department of Fish and Wildlife webpage. The Enterprise, Stringtown, and Foreman Creek boat ramp areas, area campgrounds, and the Lake Oroville Visitor Center remain closed.
USFS Extends Campground Closures
The U.S. Forest Service (USFS) Southwest Region has extended closures of developed campgrounds on 12 National Forests in California to provide consistent COVID-19 mitigation response in accordance with Gov. Gavin Newsom's Stay-at-Home Orders. These Regional Orders will be in effect through Jan. 29. Day use of National Forests will remain open for the health and welfare of Californians and visitors are urged to follow Center for Disease Control (CDC) guidelines to recreate responsibly.
DWR Fuel Load Management Program
The DWR Fuel Load Management Plan (FLMP) project to reduce wildfire risk, increase public safety, and enhance forest and watershed health around Lake Oroville will be taking place in the Loafer Creek Recreation Area over the next two weeks. Corpsmembers from the California Conservation Corps will be working to remove ladder fuels, dead and dying vegetation, and thin unhealthy overstocked trees and overgrown vegetation which increases the intensity of wildfires.
Previous FLMP projects in the Loafer Creek Recreation area have been identified as contributing to the slowing of the North Complex Fire as it approached Kelly Ridge, increasing firefighters' ability to establish a secure fire line and preventing the fire from spreading forward. With help from area partners, approximately 660 acres have been manually thinned, re-thinned, grazed, and/or treated with prescribed fire since November 2012. DWR's goal is to treat an additional 1,000 acres over the next five years.
Current Lake Operations
The elevation of Oroville's reservoir is about 697 feet and storage is about 1.23 million acre-feet. Currently, in the Northern Sierra Basin, rainfall is below average, at 42 percent of normal for this time of year and snowpack is also below average at 62 percent of normal (the northern Sierra has had more snow than the rest of the state, the state snowpack average is 52 percent). Less than one-quarter inch of rain is forecast in the Feather River Basin through Friday, Jan. 8, then dry conditions are forecast during the week of Jan. 11.
Since Dec. 29, the total releases to the Feather River have been at 1,250 cfs to conserve storage. The Feather River flows consist of 800 cfs through the Low Flow Channel adjacent to the City of Oroville, and 450 cfs from the Thermalito Afterbay Outlet (Outlet) for a total of 1,250 cfs for the Feather River's high flow channel downstream of the Outlet.
All data as of midnight 1/7/2021