Delta Conveyance Project Public Engagement Outlook for 2021-2022
Published: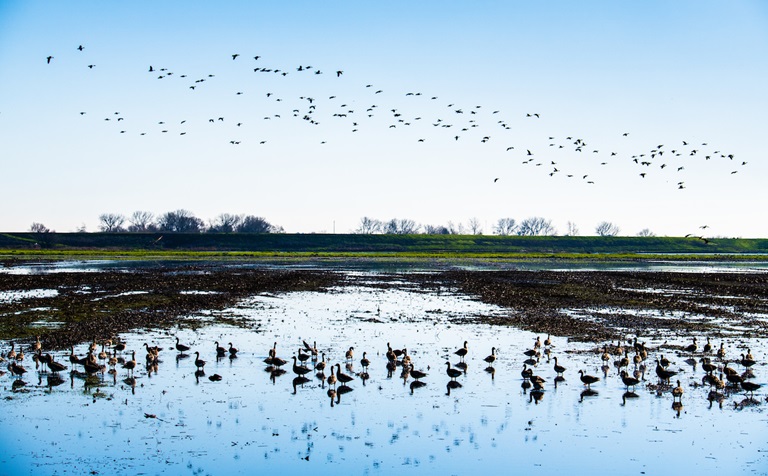 As the planning process for the proposed Delta Conveyance Project continues to move forward, public information and community engagement will remain a central and important focus. Looking ahead to the next few years and release of a Draft Environmental Impact Report (EIR) for public review in mid-2022, the Department of Water Resources (DWR) has prepared a public outreach plan that identifies information and engagement opportunities and milestones.
The objectives of this plan are to:
Provide tools for the public to meaningfully navigate and participate in the planning and environmental review process, especially as multiple activities are occurring simultaneously. Help build capacity among the public to better engage in the process and better understand the technical information ahead of the release of the Draft EIR.
Continue to advance planning activities for successful completion of required permitting and project approvals, including meeting regulatory standards for public participation.
Continue to refine the proposed project with regard to community benefits and impact minimization/mitigation development, based on public and stakeholder input.
This article outlines planned Delta Conveyance Project public information, outreach and engagement activities over the next 18 months.
Public Information: DWR will provide regular updates and informational resources in a variety of formats to help the public review and understand the project in an accessible, transparent manner. This will include continuation of the Delta Conveyance Deep Dive video series, which features interviews with experts on project-related topics such as geotechnology, climate change and State Water Project (SWP) operations. DWR will also continue providing briefings to organizations and groups in the Delta and statewide.
Public Participation / Public Notification: In an effort to facilitate meaningful public participation, DWR will provide opportunities to access public review documents and respond through formal public input processes, including for the Draft EIR which is planned for public release in mid-2022. DWR will also provide notifications and information to the appropriate parties regarding project-related activities such as geotechnical explorations and other field work to support the environmental review process that may potentially affect them directly or indirectly, as needed.
Tribal Consultation and Outreach: DWR will continue to conduct formal Tribal consultation as prescribed under the California Environmental Quality Act's AB 52 requirements and DWR's Tribal Engagement Policy, as well as informal outreach and discussions through the Tribal Engagement Committee and other venues, as requested by Tribes. DWR will also assist the U.S. Army Corps of Engineers with Tribal outreach associated with the federal Section 106 process, as appropriate. Additionally, DWR will work to ensure Tribal input is reflected in all facets of project planning through appropriate engagement opportunities, including annual update meetings.
Informational Webinars: DWR is planning to host a series of webinars designed to provide the public with background information about technical and regulatory issues associated with the proposed Delta Conveyance Project. Potential topics include:
SWP basics and water quality management
Climate change analytical methods and assumptions
Delta conveyance operations and modeling
Fish management and protection
Other topics as needed
Community Benefits Program: DWR is initiating development of a Community Benefits Program for the proposed Delta Conveyance Project which will ultimately identify and implement commitments, if the Delta Conveyance Project is approved, to help protect and enhance the unique cultural, recreational, natural resource and agricultural values of the Delta as an evolving place. Development and eventual administration of this program will be a grassroots and collaborative process, but immediate next steps include soliciting input from community leaders and the public regarding potential concepts and approaches which will lead to development of a framework to be presented in the Draft EIR.
Design-Focused Stakeholder Engagement: The Delta Conveyance Design and Construction Authority Stakeholder Engagement Committee will continue to be a forum for input on the proposed Delta Conveyance Project's technical and engineering issues focused on reducing construction-related localized Delta impacts or improving the effectiveness of mitigation. These meetings will continue to be noticed and the public will be invited to attend.
Agency Coordination: DWR will work with the various state and federal agencies who serve in a regulatory or other oversight capacity over the proposed Delta Conveyance Project to ensure each agency's specific regulatory requirements are met through a collaborative approach. DWR will provide updates on these processes and opportunities for public participation, as appropriate.
Environmental Justice and Disadvantaged Community Outreach: Outreach and engagement will continue with disadvantaged and environmental justice communities across all aspects of the project to further understand potential project-related impacts and benefits and encourage input during formal review periods. This includes engagement with community leaders and members through a variety of formats, such as workshops, to enhance and increase participation in an effort to address their specific needs and concerns.
DWR will continue to offer virtual participation opportunities as a standard option and explore innovative solutions to enable focused participation in the proposed project's planning and environmental review process. For more information or to make suggestions to help improve public information, outreach and engagement, please contact us at 1-866-924-9955 or deltaconveyance@water.ca.gov.