SMUD Museum of Science and Curiosity Featuring DWR Water Exhibit Now Open
Published: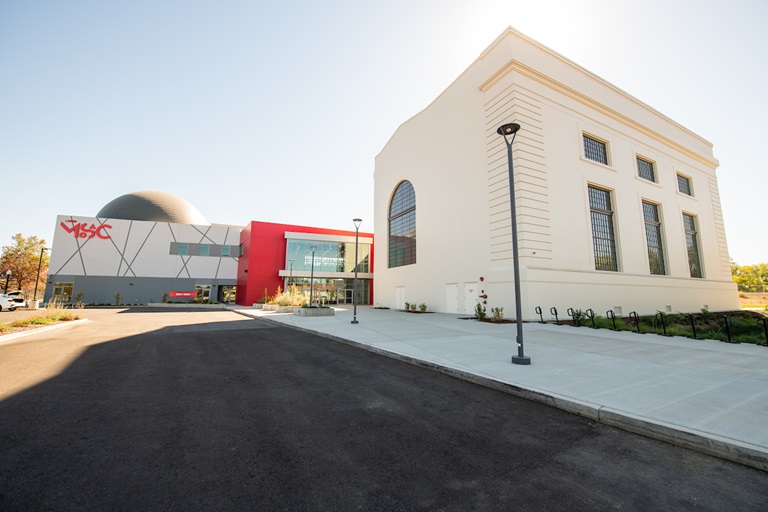 The California Department of Water Resources (DWR) is a proud sponsor of the SMUD Museum of Science and Curiosity (MOSAC), formerly known as the Powerhouse Science Center, that opened in October in downtown Sacramento.
DWR worked with the museum and its consultants for several years to assist in the planning and design of a 3,700-square-foot exhibit space focused on California's water, including information about the State Water Project, which serves 27 million people and 750,000 acres of farmland. The 50,000-square-foot building includes a planetarium and exhibit halls focused on health, nature, space, engineering, and energy. The goal of the museum is to serve as a regional epicenter for Science Technology Engineer and Mathematics (STEM) education and encourage students to enter STEM-related careers.
"DWR supports STEM education by inspiring youth with hands-on learning in science," said Lead Deputy Director Cindy Messer. "This new museum will serve as an epicenter for the Sacramento region to learn the story of California's water and how science, technology, engineering, and mathematics play a vital role in supporting our mission to sustainably manage the water resources of our state."
Check out the DWR sponsored exhibits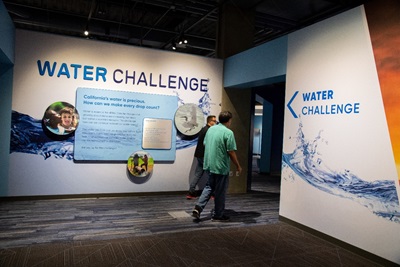 California Water Story Map – Guests enter the water gallery into DWR's "Our Water Challenge" to see how the geography of California and our unpredictable supply of water has shaped water management and California communities. A 3-D topographical map of California comes to life with projected motion graphics, animated text and sound effects. The map depicts the natural flow of California's water, as well as a historic overview of the infrastructure that balances, manages and delivers water to different communities and farms, and supports the economy and environment.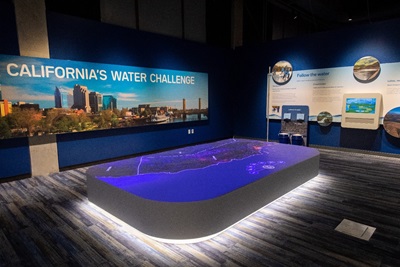 Where Our Water is Stored: Snowpack, Groundwater, Lakes, and Reservoirs – An interactive snow survey exhibit allows guests to compare snow density measurements. To understand groundwater recharge, guests use a slider on a wall-mounted touch screen to see how aquifers slowly accumulate water over time and how pressure placed on groundwater resources can deplete them. Guests learn about water storage in lakes and reservoirs, as well as flow through a digitally enhanced tabletop sandbox where they control and manipulate the movement of water with their hands and with blocks to build dams.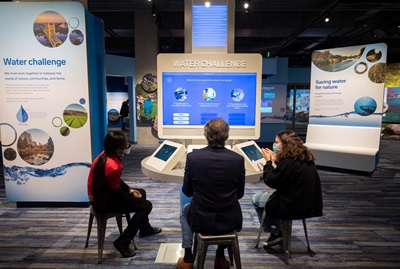 Water Challenge Game – Situated at the center of the exhibit space, the Water Challenge Game invites visitors to collaborate and answer questions to test their knowledge about water and water conservation in California and learn that it's important to work together to solve California's water challenges.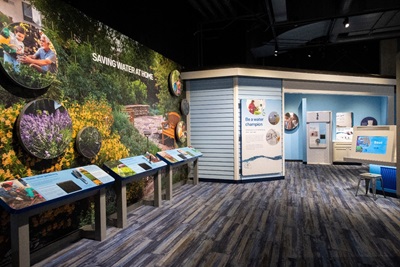 Water Champions – This exhibit inspires guests by giving a voice to the community. They share their water champion stories through videos on smart landscaping, caring for watersheds, water conservation, and sustaining the health of the American River. Water Champions is a jointly sponsored exhibit with the other exhibit water partners.

Exhibits in the gallery are sponsored by several partners to tell a collective story of California's water. Partner sponsors include: California Farm Water Coalition, Regional Water Authority (RWA), Regional SAN & Sacramento Area Sewer District, California Water Awareness Campaign, Ducks Unlimited, Sacramento Regional County Sanitation, Association of California Water Agencies, California American Water, National Fish & Wildlife Foundation, and California State Parks.
Other major sponsors of MOSAC include the city and county of Sacramento, PG&E, and Aerojet Rocketdyne.