Is Your Family Prepared for a Flood Disaster? Tips to help kids 'Be Flood Ready'
Published: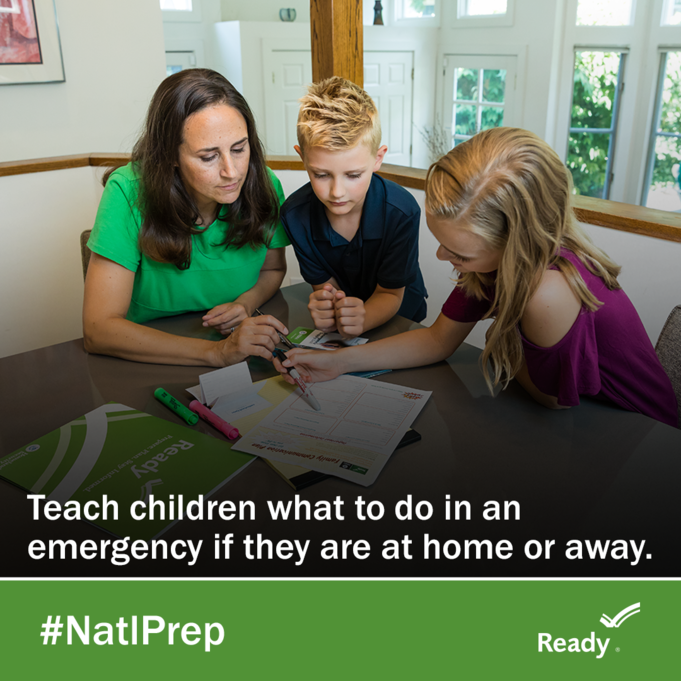 To close out "National Preparedness Month", which spans the month of September, we compiled a list of tips from Ready.gov to help children and families prepare for a flood emergency and its aftermath. For more preparedness tips, view our earlier article on building an emergency kit.
Preparing for a flood disaster starts at home. Disasters can happen everywhere, and every member of the family should be part of the planning, including young children and teens.
As a parent, guardian, or other family member, you have an important role to play when it comes to protecting the children in your life and helping them prepare in case disaster strikes, as well as communicating with them in a flood's aftermath. Taking time to explain the situation to your children will help them understand that they are safe and secure. Quickly returning to a regular routine will help children ease back into a sense of normalcy and ease tensions.
Preparing for a Flood
Make a Plan Your family may not be together when a flood occurs. Know how you'll contact one another and reconnect if separated. Establish a family meeting place that's familiar and easy to find. And, don't forget to think about specific needs in your family such as dietary needs, medical needs including prescriptions and equipment, cultural and religious considerations, and pets or service animals. Your family's needs change over time, so update your plan regularly.
Who Will You Contact?

Pick the same person for each family member to contact in case you are separated – a single point of contact can keep track and ensure everyone is accounted for. Choose a close friend or relative out-of-town – they may be easier to reach in a disaster. If possible, text, don't call. In an emergency, phone lines may be tied up. It may be easier to text, and this leaves phone lines open for emergency workers.

Where Will You Meet?

Decide on safe, familiar, place where your family can go for protection or to reunite. If you have pets, think about animal-friendly locations. Consider places in your house, in your neighborhood, and outside of your city or town so you're prepared for any situation. During a flood it is important to avoid low lying areas, so choose a location located on high ground if possible.

Practice, Practice, Practice!

W

rite down your contacts and plans. Make sure everyone in the family has copies and keeps them in a safe space, like in a backpack, wallet, or taped in a notebook. Put them in your cell phone if you have one. Hold regular household meetings to review and practice your plan, which is a way to reduce confusion or anxiety if a disaster occurs.
How can you help children recover from a flood disaster?
Floods can leave children and teens feeling frightened, confused, and insecure. Their responses can be quite varied. It's important to not only recognize these reactions, but also help children cope with their emotions.
Encourage dialogue and answer questions.

Listen to your kids. Ask them about their feelings and validate their concerns. When they ask questions, give just the amount of information you feel your child needs – don't overwhelm them.

Limit media exposure.

Intense media coverage of flooding can frighten young children and disturb teenagers as well. If your children watch TV or use the internet, try to be available to talk with them and answer questions based on the information they hear.

Make time for them and find support,

Help kids understand that they are safe and secure by talking, playing, and doing other family activities with them. Build support networks with friends, family, and community organizations to help you cope, which can also help your children cope.

Keep to a routine.

Help your children feel as if they still have a sense of structure, which can make them feel more relaxed, and will help children return to normal activities.
Keep learning
To view these tips and more, visit Ready.gov.
For more information on National Preparedness Month be sure to visit the California Governor's Office of Emergency Services website.
The I Am Ready: Flood Preparedness Activity Book, was developed by the Department of Water Resources (DWR) and US Army Corps of Engineers to help helps young children and their families This fun activity book is offers safety advice through crosswords, coloring pages, matching games, and more, and is available in English and Spanish.