Meet Luna: DWR's Four-Legged Resource for Protecting California's Waterways
Published: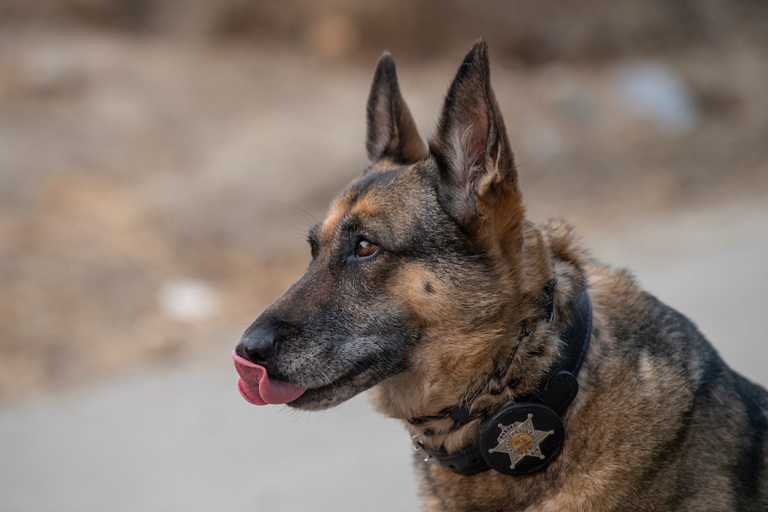 Her pointed ears, black and brown fur, and star-shaped badge may look like those of a California Highway Patrol K-9, but with a little digging (pun intended) you'll discover she's the Department of Water Resources' (DWR) four-legged resource for protecting the Delta.
Through a partnership with the California Department of Fish and Wildlife's (CDFW) Law Enforcement Division – DWR is able to provide funding for Luna, a seven-year-old German Shepard from the Czech Republic, who is trained to protect her handler, apprehend suspects, and detect various threats to Delta species and environments.
"Whether it's on a boat or on the shore, it's nice to have a nose like Luna's as a resource," said Officer Timothy Bolla with CDFW.
Luna is trained to sniff-out and locate firearms, abalone, sturgeon, deer, bear, quagga muscles, ivory and other invasive species that can harm California's natural resources.
"She's got a big range, and I'm lucky to have her as a partner," Bolla said.
Luna and her human partner are part of the DWR/CDFW collaboration known as the Delta Bay Enhanced Enforcement Program (DBEEP). The program consists of a supervisor, and nine game wardens.
Game wardens focus on protecting California's Delta region from threats such as poachers and invasive species. Luna joined the warden team in 2016 and is the only K-9 currently assigned to the Delta program.
"We patrol a large area in the greater Delta region and it's nice to know I have her there if I'm ever in a dangerous situation," Bolla said.
The program's main objective is fishing and hunting enforcement, along with boater safety and education. DWR provides the funding and contract management for Luna through resources from the State Water Project.
"In the Delta area we're lucky to have such a vast and diverse fish population," Bolla said. "With that also comes great recreational opportunities, but some people can take advantage of that, like with poaching. We do our best to make sure we go out and protect our native species and resources."
With the help of DBEEP and the partnership with CDFW, DWR continues to support its mission to work in cooperation with other agencies to protect the State's water resources.
"I feel like we are really making a difference to protect our natural resources," Bolla said.
Visit our K-9 Pixel gallery to view more photos of Luna and Officer Bolla patrolling the Delta.