Wildfires Lead to Increased Flood Risks: Be Prepared, Stay Alert
Published: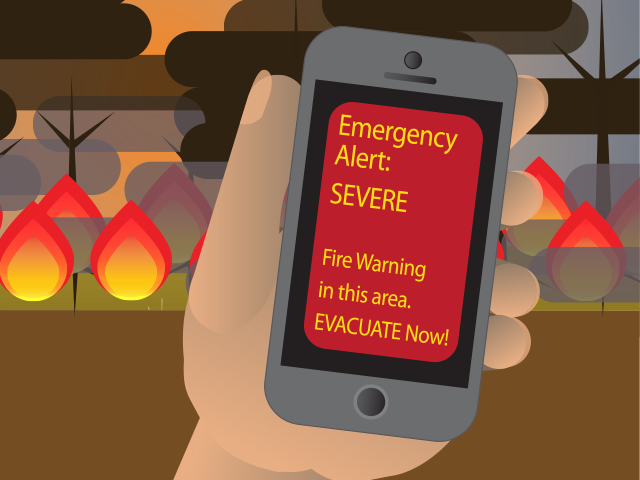 California has experienced record-breaking wildfires in 2020 with more than 4 million acres burned, increasing the risk of flash flooding along with mud and debris flows to communities and homes downslope of burn areas.
The impacts caused by wildfires can be drastic when it comes to flood risk. In normal conditions, trees, shrubs, grass, and other protective groundcover allow rainfall to infiltrate into the soil. After a wildfire, the extreme heat can bake the soil to the point that water is unable to penetrate and can cause excessive run off in a post-wildfire area.
Due to these changes, even a small storm system occurring over burn areas can cause flash flooding. Mud and debris flows can occur up to five years after a wildfire.
Debris flows can take homes off their foundations and carry away vegetation, trees, large boulders, and vehicles. Mudflows are fast moving combination of water and soil. Both happen fast, so heed evacuation warnings.
Stay alert and be prepared before flooding occurs. Being ready also means knowing when to evacuate.
Flood After Fire Preparedness Tips:
BE AWARE of the potential of flooding in your community – Know whether your home is downslope of a burn area or in an area susceptible to flooding by visiting the FEMA Flood Map website. You can visit DWR's My Flood Risk website for information on potential flooding in your area. Pay attention to weather forecasts. Check current conditions in your area by visiting the National Weather Service Current Conditions. Listen to local authorities.
BE PREPARED – Always have an emergency evacuation kit ready.

An emergency evacuation kit is a collection of basic items your household may need in the event of an emergency, such as canned food, water, and a flashlight. Check out

FEMA's recommended items

.

Your family may not be together if a disaster strikes, so choose a family meeting place and a plan for how to communicate during an emergency. View tips to create a family communications plan.
TAKE ACTION – Follow evacuation orders. In emergencies, public safety officials use timely and reliable systems to alert you. Receiving timely information about weather conditions or other emergency events can make all the difference in knowing when to take action. Review this fact sheet to make sure you will receive critical information as soon as possible.
Quick links to be 'Flood Ready'