DWR Unveils New Benchmark Toward Reducing Carbon Emissions
Published: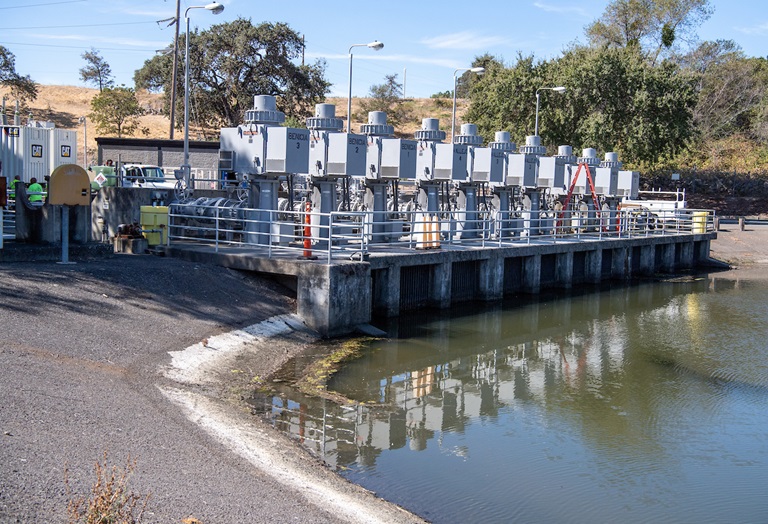 The Department of Water Resources has released California's first-ever greenhouse gas emissions performance metric to help the Department reduce its carbon footprint and help the public track the 'carbon intensity' of water moving across California.
The metric identifies the amount of carbon dioxide per acre foot of water transported by the State Water Project. Water districts receiving water from the SWP can use this metric to understand the emissions of their water supply chains, and customers can better understand the 'carbon intensity' of the water they purchase. The Department's score is currently 0.25 metric tons of greenhouse gas emissions per acre foot of water delivered via the SWP.
In disclosing the information, DWR joins Metropolitan Water District and other water agencies across California in the Water-Energy Nexus Registry, a toolkit to help water agencies identify and reduce their carbon footprint. The Water-Energy Nexus Registry is administered by The Climate Registry, a nonprofit that designs and operates GHG reporting programs. The Department is a founder of the Water-Energy Nexus Registry. The Climate Registry also recently awarded DWR its Water-Energy Leader All-Star status for meeting criteria on greenhouse gas reporting and reduction.
DWR's inclusion into this registry could encourage water agencies across the state to use the Water-Energy Nexus Registry and lower their greenhouse gas emissions, said John Andrew, DWR's Assistant Deputy Director overseeing the Department's climate change activities.
"This honor from The Climate Registry marks yet another milestone in our ongoing commitment to reduce the most harmful effects of climate change," Andrew said.
Carbon intensity of water represents metric ton of GHG emission resulting from energy used to deliver one acre foot of water. Formerly, DWR could only track its energy usage through its electricity procurements. This metric marks the first calculation to solely focus on water products and delivery.
This Water-Energy Nexus Registry also sends a public message that conserving water is one way to fight climate change. When a water agency joins the registry, their customers can understand regional energy usage in a new way. DWR encourages all Californians to make water conservation a way of life.