Lake Oroville Community Update - March 20, 2020
Published: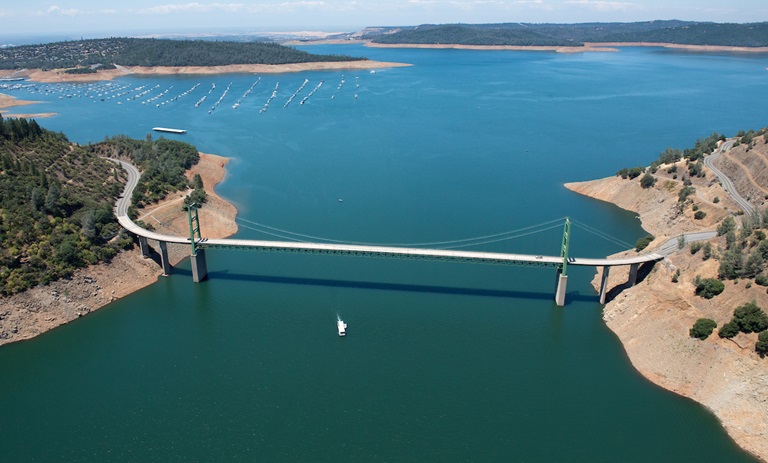 DWR's Critical Functions Continue
The Department of Water Resources (DWR) continues operations to maintain critical functions while modifying the way we work in the face of the coronavirus to protect our staff. Following guidance from the Governor Newsom and California Department of Public Health, DWR has made several changes in response to the dynamic situation.
DWR continues to provide the state of California its core services of water delivery, flood protection, dam safety and infrastructure maintenance. Please remember that California's water treatment process removes and kill viruses, including COVID-19. Additionally, tap water is cheaper, easily accessible and doesn't contribute to plastics pollution.
Closures Due to Public Health Concerns
In an effort to protect public health and the safety of visitors, volunteers and staff as the state responds to the continued threat of COVID-19 (coronavirus), the California Department of Parks and Recreation (State Parks) and Department of Water Resources (DWR) have temporarily closed the Lake Oroville Visitor Center on Kelly Ridge Road. State Parks has also temporarily closed all campgrounds in the Lake Oroville State Recreation Area (LOSRA) to help slow the spread of the pandemic disease. The Feather River Fish Hatchery is also closed to the public with the viewing area near the Fish Barrier Dam remaining open. The decision to close these areas are in accordance with guidance from the Governor's Office via the California Department of Public Health (CDPH), the Centers for Disease Control and Prevention (CDC), and the Governor's Office of Emergency Services (Cal OES) in an effort to protect our most vulnerable community members.
As of today, non-campground outdoor areas of LOSRA, including trails and boat launches, remain open. Visitors are reminded to practice social distancing and maintain at least six feet between other visitors and anyone who is coughing or sneezing. Restrooms also remain open, and visitors are advised to take soap for hand washing and alcohol-based hand sanitizers when water is not available.
State Parks and DWR continue to monitor the COVID-19 (coronavirus) situation closely and will follow any guidance provided by the Governor's Office via the CDPH, the CDC, and Cal OES. For the latest information on public access, you can contact DWR by email at dwrwebcomment@water.ca.gov or by calling (916) 653-5791. You may also contact LOSRA headquarters at (530) 538-2200.
CAL FIRE – Butte County Resumes Vegetation Management Project
With the return of wet weather, CAL FIRE has resumed burning brush piles at the south end of Loafer Creek as part of their Vegetation Management Program which aims to reduce wildfire risk, improve public safety and enhance forest health around Lake Oroville. DWR's Fuel Load Management Plan (FLMP) contractors also thinned overstocked trees and vegetation which increases CAL FIRE's target area to approximately 20 acres. CAL FIRE activities will take place seven days a week as weather allows. Smoke from the burn piles may be visible by area residents and motorists on State Route 162 near the Forbestown Road area.
Current Lake Operations
The elevation of Oroville's reservoir is about 806 feet and storage is nearly 2.26 million acre-feet. Daily average inflows to the lake have ranged between 2,273 cfs (cubic feet per second) to 2,655 cfs over the past week. After a couple days of dry conditions, additional rain and snow is expected beginning Sunday into the week of March 23. Up to two inches is in the forecast, with the bulk of it on Monday and Tuesday.
Currently, in the Northern Sierra Basin, rainfall is below average, at 56 percent of normal, and snowpack is also below average, measuring 51 percent of normal for this time of year.
Releases to the Feather River are at 1,750 cfs to conserve storage. The current release is to meet environmental requirements in the Sacramento-San Joaquin Delta. At this rate, there is about 800 cfs flowing through the City of Oroville and about 950 cfs being released from the Thermalito Afterbay Outlet.
All data as of midnight 3/19/20