Lakes Along State Water Project Offer Unique Camping Experiences
Published: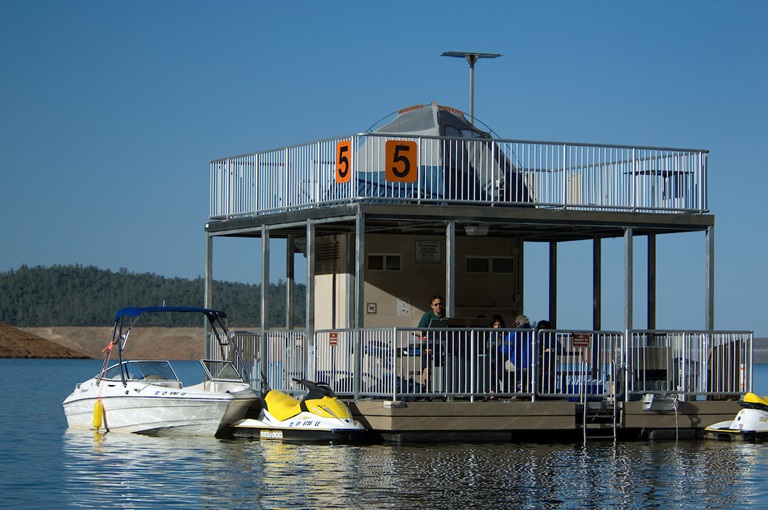 It's never too early to start planning your summer vacations! The State Water Project (SWP) not only delivers water to 27 million Californians but also provides recreation opportunities.
From north to south, the SWP offers several unique camping venues such as floating campsites, horse camping, and group sites.
Campsites go fast – visit Reserve California to make a reservation; type in your desired dates and location to check availability.
Lake Oroville
Lake Oroville is home to the tallest earthen dam in the United States, standing at 770 feet above the stream bed of the Feather River in Butte County.
The recreation area encompasses 167 miles of shoreline, 47 miles of trails, and is one of the premier destinations for recreational activities in Northern California.
Oroville has several unique camping options, including:
Floating Campsites: There are ten 20'x24' floating sites that are accessible by boat. Boat rentals are available at the marina. Each site is fully furnished with a propane barbeque, , restroom, and lockable closet. Campers are advised to bring plenty of drinking water.

Boat-in Camps: Boat camps are located at Craig Saddle, Foreman Point, and Bloomer Point. Each campsite has six to twenty-six individual campsites that provide tables, stoves, pit toilets, and garbage cans.

Hike-in Camps: Bloomer Primitive Camping Area offers three sites that welcome equestrian hikers and bicyclists accessing the area via the Potter's Ravine Trail.

Horse Camping: Loafer Creek Horse Camp has 15 campsites, an accessible restroom with showers, pipe corrals, and horse exercise and washing stations.

Traditional Camping: The Loafer Creek Campground offers 137 traditional campsites and six group campsites that can accommodate tents, trailers, RV's, and motorhomes. Each site offers restrooms, coin-operated showers, and laundry tubs. Additional campsites at Oroville at Lime Saddle and Bidwell Canyon will re-open to the public on April 1, 2020
Lake Perris
Lake Perris is conveniently located a short drive away from major cities such as Riverside, Palm Springs, and greater Los Angeles.
Visitors can easily cool off at the lake during the warmer months of the year while enjoying the unique recreational activities such as rock climbing and geocaching. The Ya'i Heki Regional Indian Museum is also available Friday through Sunday.
Traditional Camping: Campgrounds can hold up to three vehicles and provides a picnic table and fire ring with a grill. Water and restrooms with free hot showers are located nearby.

Horse Camping: There are seven primitive horse campsites that have corrals, water troughs, and portable toilets. Each site accommodates up to eight people and two horses.

Group Camping: Lake Perris has six group campsites that accommodate a maximum of 100 people each. Each site has shade ramadas, picnic tables, and a kitchen area with counters, a sink, and a barbeque grill.
Silverwood Lake
Silverwood Lake is the highest reservoir in the SWP, standing at 3,350 feet. The lake is formed by the 249-foot Cedar Springs Dam and offers a beautiful camping experience in the wooded areas of San Bernardino County.
Located in the heart of the San Bernardino National Forest, notable park features include the Pacific Crest Trail which offers a lake view from the San Bernardino Mountains. The park features boating, swimming, and fishing access.
Traditional Camping: The Mesa Campground has 95 family sites with tables, grills, and fire rings. Each camp site has an eight-person limit.

Group Camping: Group camp sites provide barbecues, tables, and restrooms with showers. Each site holds up to 100 people and 30 cars.

Hook-Up Camps: The New Mesa Campgrounds offers 41 trailer and RV hook up campsites.
In addition to camping, SWP facilities offer an array of recreation opportunities including hiking, boating, biking, and more. For more information, visit our recreation page.
For more information on camping, visit Reserve California.