Lake Oroville Community Update - March 13, 2020
Published: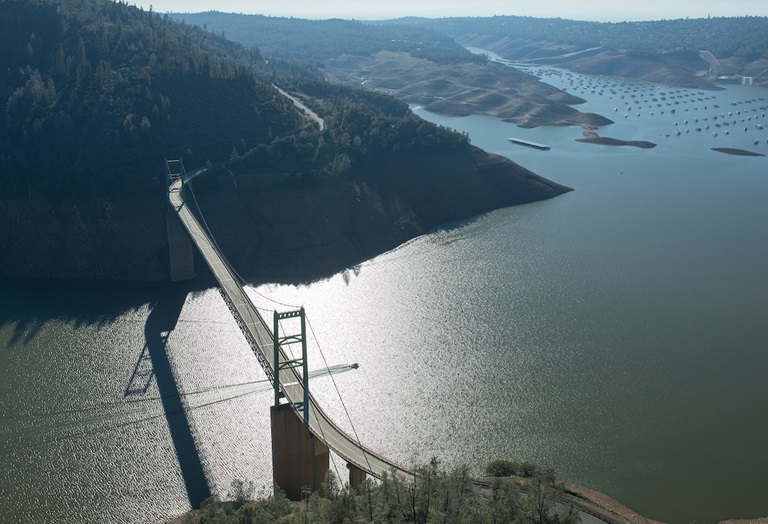 Contractor Completes Boat Ramp for Loafer Point Boat Ramp Project
DWR contractor K.W. Emerson, Inc. has completed constructing the new three-lane boat ramp at Loafer Point. The $5 million project includes construction of a 92-stall parking area with lighting, a restroom facility, three boat lanes that provide launching capabilities at lake elevations of 800 feet or higher and one boarding float lane. Parking lot and restroom facility construction continues with completion anticipated by August 2020. A project to construct a second-stage parking lot and boat ramp, for launching at lower water levels is also being planned. The Loafer Point day use area is currently closed to the public due to construction activities, however, all other Loafer Creek recreation areas remain open.
DWR and CAL FIRE Work to Reduce Fire Fuels at Loafer Creek
Visitors to Loafer Creek and motorists on State Route 162 near Forbestown Road may see crews cutting and piling brush on over 30 acres targeted for fuel reduction. These activities are part of DWR's Fuel Load Management Plan (FLMP) and CAL FIRE's Vegetation Management Program which aim to reduce wildfire risk, improve public safety, and enhance forest health by thinning and removing hazardous fuels and overgrown vegetation that increases the intensity of wildfires. CAL FIRE crews will return to dispose of the piles once sufficient rainfall has occurred to allow safe burning.
Motorists may also encounter one-way traffic controls on State Route 162 from Arbol Avenue to 1.5 miles past Forbestown Road as Caltrans crews perform intermittent tree work for the next several weeks in the highway right-of-way. Motorists should anticipate delays.
DWR Continues Installation of New Piezometers at Oroville Dam
DWR contractors continue the installation of eight new piezometers at the base of the dam. These piezometers will further monitor seepage and will be used to confirm the seepage measurements DWR already collects. Seepage is normal and expected, especially in large, earthen dams like Oroville. Seepage is measured and collected through a drainage system. If seepage were to change dramatically, it would indicate an issue that would need further investigation.
This work is part of the early implementation of the Oroville Dam Safety Comprehensive Needs Assessment (CNA), which is focused on identifying priorities and appropriate solutions to bolster the integrity and resiliency of the Oroville Dam complex to ensure public safety. Work will continue for several weeks, generally between the hours of 7 a.m. and 7 p.m.
There were 56 piezometers initially installed in the dam 50 years ago which, as anticipated, have since stopped functioning. DWR plans to install additional piezometers throughout the facility in the coming years.
Current Lake Operations
The elevation of Oroville's reservoir is about 805 feet and storage is nearly 2.25 million acre-feet. Daily average inflows to the lake have ranged between 1,501 cfs (cubic feet per second) to 2,348 cfs over the past week.
A winter storm watch will be in effect March 14-16 in the Feather River Basin. Continued low snow elevation and precipitation is projected during the week of March 16. This change in conditions is welcomed considering the recent stretch of dry weather.
Approximately, three to five inches of precipitation is forecasted Saturday through Wednesday. Inflows into Lake Oroville are not expected to significantly increase over the next week because of the cold temperatures and dry conditions in the basin. Currently, in the Northern Sierra Basin, rainfall is below average, at 47 percent of normal, and snowpack is also below average, measuring 42 percent of normal for this time of year.
Releases to the Feather River are at 1,750 cfs to conserve storage. The current release is to meet environmental requirements in the Sacramento-San Joaquin Delta. At this rate, there is about 800 cfs flowing through the City of Oroville and about 950 cfs being released from the Thermalito Afterbay Outlet.
All data as of midnight 3/12/20