How DWR is Continuing Critical Operations Through Ongoing Public Health Emergency
Published: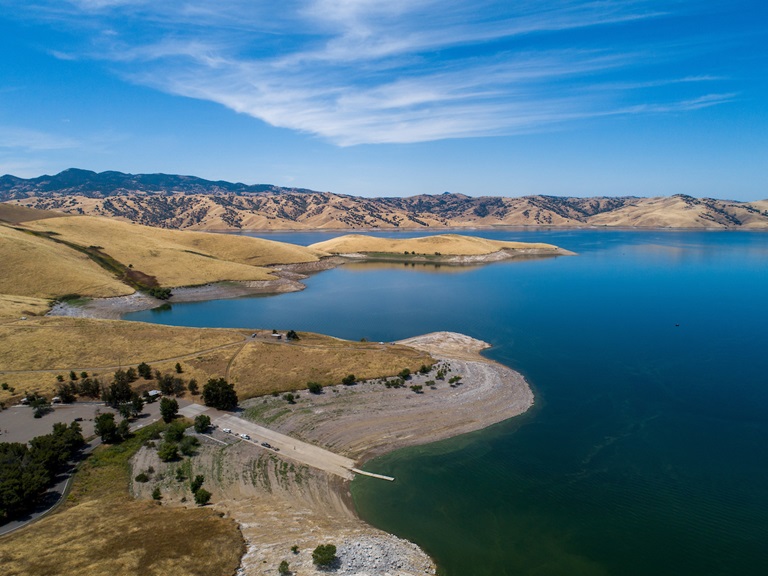 ***Information as of 11:30 a.m., 9/11/2020
The Department of Water Resources (DWR) continues operations to maintain critical functions while modifying the way we work in the face of the coronavirus to protect our staff. Following guidance from Governor Newsom and California Department of Public Health, DWR has made several changes in response to the dynamic situation.
DWR continues to provide the state of California its core services of water delivery, flood protection, dam safety and infrastructure maintenance.
Please remember that California's water treatment process removes and kill viruses, including COVID-19. Plus, tap water is cheaper, available & doesn't contribute to plastics pollution.
Please check the below, our website – water.ca.gov – and follow us on Facebook, Twitter, Instagram, and LinkedIn for all the latest updates.
Don't forget to visit California's COVID-19 website for the latest resources and information about the outbreak.
You can also contact DWR by email or by calling (916) 653-5791.
Water Operations and Deliveries
State Water Project operations and maintenance continues. California residents can be assured that DWR will continue to provide reliable, high quality water.
DWR has developed continued operations plans to maintain our core functions, particularly water deliveries and maintenance of critical infrastructure. DWR is modifying staffing as needed to ensure coverage 24 hours a day, seven days a week, while also complying with guidance regarding social distancing and other measures to protect public health.
Flood Protection
DWR's flood management team continues to oversee operation and maintenance of the 1,600-mile network of levees and flood infrastructure within the State Plan of Flood Control. The team stands ready to support flood fighting and emergency response activities throughout the state, if necessary. Additionally, the team continues to develop the State's hydrologic, snowpack and river forecasts to inform water managers and local flood management agencies. DWR also continues to play a crucial role in promoting coordination between local, state, and federal agencies that are responsible for maintaining and constructing new flood risk reduction projects and identifying hazards to flood vulnerable communities.
Dam Safety Regulation
DWR's Division of Safety of Dams continues to operate and perform its critical and essential functions of emergency response to dam safety incidents, construction oversight, dam inspections, design reviews of critical dam safety work, inundation map reviews to support emergency planning efforts, and response to public and dam owner inquiries for the continued safe operation of the 1,200 + dams under its jurisdiction.
Closures at Public-Facing Facilities and Offices
While DWR continues its critical work, public access to some offices and facilities has been temporarily restricted, including DWR's regional offices in Red Bluff, West Sacramento, Fresno, and Glendale.
For the latest information on the status of State Water Project reservoirs and facilities, please visit our September article on critical operations during public emergencies.
Information on CA Parks facility status can be obtained on the California State Parks website.
When visiting SWP sites, please follow all social distancing requirements and any local recommendations regarding face coverings. If visitors begin to congregate too closely to maintain physical distancing of 6 feet or more, visitors will be asked to leave. Due to minimal staffing, bathrooms and water fountains may not be available -- bringing water, soap and hand sanitizer is recommended.
Catch a Special Thrill Events at SWP Reservoirs:
Catch A Special Thrill (C.A.S.T.) events at Lake Oroville in Butte County, Brannan Island in the Delta, O'Neill Forebay in Merced County, Castaic Lake and Pyramid Lake in Los Angeles County, Lake Perris in Riverside County, and Silverwood Lake in San Bernardino County are cancelled for 2020.
For more information on C.A.S.T. events, visit the C.A.S.T. website.
Water Education
Looking for fun and free activities to do with your kids at home? Check out DWR's website for free, fun, and educational activities that your kids can do at home. For more than 30 years, DWR has helped educators – from classroom teachers to scout leaders to homeschool parents – teach California's young people about water. Now, we are helping those at home due to the Coronavirus national health emergency get access to these same educational materials.
We even have educational videos available on our YouTube channel. And be sure and check out our Kids Corner for online games and activities offered by other water organizations and agencies.
Ongoing DWR Work
DWR staff continue other important work including supporting efforts to bring groundwater basins into balance, assisting with local drought preparedness, planning for climate change, improving water use efficiency, advancing habitat restoration projects and ensuring environmental protections. Much of this work is being done by employees remotely to ensure the continued safety and health of our employees.
Public Comment Extensions
DWR has extended the public comments periods for several documents and public notices that were recently opened for comment.
Groundwater Sustainability Plan (GSP) public comment periods have been extended 30 days. The new deadlines for public comment are May 15, 2020 and June 3, 2020. Visit the SGMA Portal to submit your comment.
The Water Budget Handbook public comment period has been extended by 30 days until May 7, 2020.
The Delta Conveyance Project scoping period has been extended by four weeks and will now close at 5 p.m. Friday on April 17, 2020.