DWR Receives National Climate Leadership Award
Published: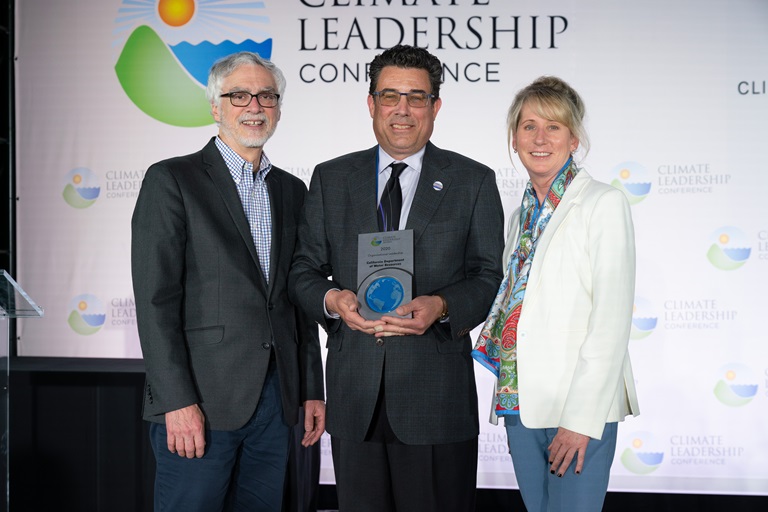 The Department of Water Resources (DWR) won a prestigious national award March 5 for its influential role in the nation's fight against climate change, receiving recognition for the Department's outreach on climate resilience and for taking a comprehensive approach that aligns state and local water management.
Two organizations, the Center for Climate and Energy Solutions and The Climate Registry, presented DWR with the Climate Leadership Award for Organizational Leadership. It marks the fourth time in six years DWR received the award at the Climate Leadership Conference, an annual event that honors innovative leadership and sustainability practices carried out by individuals and leaders to combat climate change.
"Climate change informs our thinking on every level at DWR," said DWR Director Karla Nemeth. "As climate change continues to alter the hydrologic cycle, integrating flood protection and water supply responsibilities is critical to ensuring clean and reliable water for California's communities and the environment, and protecting Californians from flood. DWR is 3,500 people strong. It takes everyone's support for the organizational and cultural changes necessary to meet the climate challenge head on. We are a work-in-progress, but very grateful for this recognition. It only serves to motivate us further."
"Planning for long-term prosperity means accounting for climate impacts and a decarbonized economy," said Bob Perciasepe, president of the Center for Climate and Energy Solutions. "The only way to take advantage of the clean energy transition is to be clear-eyed about climate challenges. DWR has demonstrated outstanding leadership in this and will be ahead of the game in the clean energy economy."
The award acknowledged some of DWR's notable achievements to adapt, prepare, and reduce the risk of climate change, including:
DWR's 2019 Strategic Plan, which takes a comprehensive, multi-benefit approach to water management that aligns with state and local planning efforts.

DWR's

Climate Change Vulnerability Assessment

, released in February 2019, that provided a first-of-its-kind evaluation measuring the vulnerability of DWR facilities to wildfires, extreme heat, and sea-level rise. The assessment also examined impacts to California ecosystems resulting from climate change, which helps inform DWR's prioritization of infrastructure improvement projects and created an evaluation model that could aid other agencies and water utilities.

DWR's continued outreach regarding climate change literacy and education, specifically through focused training that keeps current with evolving climate science. DWR also expanded classroom outreach, in partnership with the Water Education Foundation and local partners, conducting climate change workshops for K-12 educators who work with an estimated 110,000 students statewide.