Lake Oroville Community Update: January 10
Published: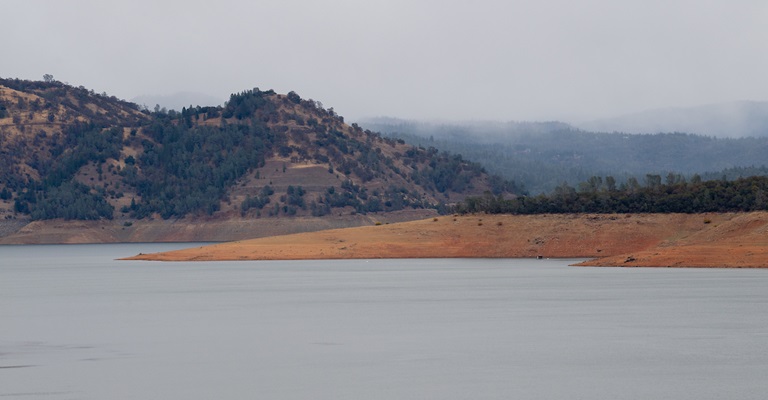 New Oroville Spillway Sirens to be Tested Wednesday, January 15
Residents and visitors near Oroville Dam can expect to hear loud siren noises after 10 a.m. on Wednesday, January 15 for the testing of new sirens near the Oroville Dam main spillway. Following a "This is only a test" verbal announcement, there will be multiple 10-second soundings over the course of several hours as sirens at different locations are tested and activated. The 121-decibel level sounding will be audible to neighboring residents, motorists on Oro Dam Blvd. East and visitors to recreation areas around Oroville Dam, including the Diversion Pool, Spillway Boat Ramp area and Dam Crest/Oroville Dam Road. Testing is anticipated to be concluded by late Wednesday afternoon. The sirens are in place to notify nearby persons that water releases down Oroville Dam's main spillway are about to begin. The sirens will be tested monthly.
DWR Installation of New Lighting on Main Spillway to Begin mid-to-late January
Following manufacturer's instructions, new lighting installed on Oroville Dam's main spillway will remain on for a continuous 72-hour period as part of activation testing. It's anticipated this testing period will begin during the last weeks of January with some preliminary tests taking place beforehand. The public's patience is appreciated as DWR complies with the lights' activation requirements. After testing is complete, the lights will then be used intermittently based on operational needs.
Donate Your Christmas Tree for Lake Oroville Fish Habitat
The Chico Boy Scouts Troop 2 will be collecting Christmas trees this Saturday, January 11 at three locations in Chico. The locations can be found on their website. In addition to trees already scheduled for pick-up by the Troop's volunteers, the trees will be recycled into prime habitat for fish and other wildlife at Lake Oroville and the Thermalito Afterbay through a partnership between DWR, area Boy Scouts troops, Recology and the California Conservation Corps. All trees must have all ornaments removed and flocked trees are not able to be accepted. DWR's over 25 years of work with local groups to construct fish habitat structures at Lake Oroville is one of the longest continuously running fish habitat improvement programs in the State of California.
Oroville Field Division Continues Controlled Burns in Lake Oroville Cove
Oroville Field Division (OFD) maintenance crews will continue to conduct controlled burning in a remote cove on the Feather River's South Fork arm of Lake Oroville. Throughout the year, OFD crews collect logs, branches and other floating debris carried into Lake Oroville from the three forks of the Feather River to the remote cove. After the first rains of the season, crews gather the logs into small piles for burning. The public is advised to use caution if visiting the area. These controlled burns will continue until all of the debris is removed.
New Recreation Improvement Project Begins at Lake Oroville's Loafer Point
The first of two projects to improve recreation and public access at Lake Oroville's Loafer Creek State Recreation Area began in December near the Loafer Creek Day Use Area. The $5 million Loafer Point Boat Ramp Facility Stage One project will include construction of a 92-stall parking area with lighting, a new restroom facility, three new boat launch lanes and one boarding float lane. The boat launch lanes will provide access to Lake Oroville at lake elevations between 900 feet and 800 feet. The project is anticipated to be completed by August 2020. A project to construct a second stage parking lot and boat ramp for launching at lower water levels is also being planned.
For public safety, the day use area at Loafer Creek will be closed until approximately mid-April, depending on weather. The public is advised to be aware of construction equipment and activities and abide by all restricted-area signage.
Current Lake Operations
The elevation of Oroville's reservoir is about 790 feet and storage is over 2 million acre-feet. Daily average inflows to the lake have ranged between approximately 3,370 cfs (cubic feet per second) to 4,140 cfs over the past week.
Light amounts of rain and snow are forecasted through the weekend, with colder temperatures and chances of continued precipitation and snow in the lower elevations of the Feather River watershed during the week of January 13.
Water is being released from Lake Oroville at a rate of about 2,500 cfs. Water from the reservoir is being used locally for rice stubble decomposition and to support waterfowl habitat and is also being used to meet Feather River flow and environmental requirements in the Sacramento-San Joaquin Delta. Releases to the Feather River are 2,000 cfs, with about 800 cfs flowing through the City of Oroville and 1,200 cfs being released from the Thermalito Afterbay Outlet.
All reservoir data as of midnight 1/9/20