DWR Relaunches its Research Vessel Monitoring Program After COVID-19 Delays
Published: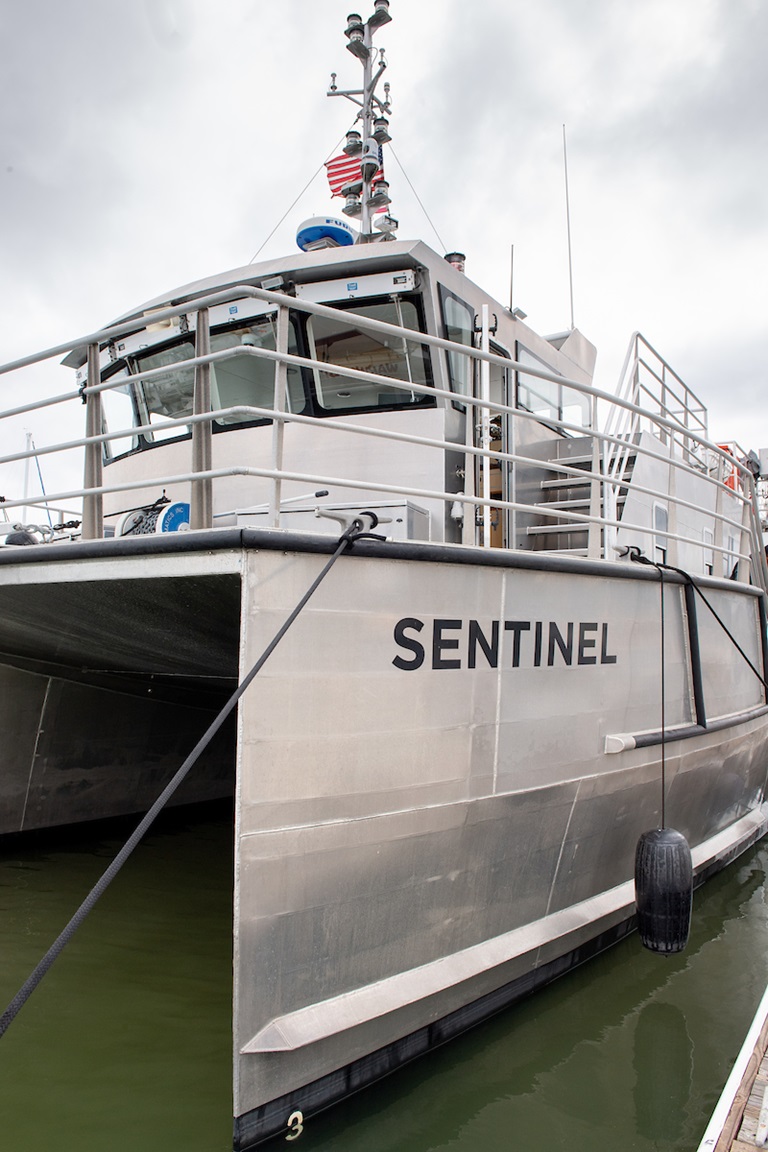 After being docked for three months due to COVID-19 restrictions, the Department of Water Resources (DWR) relaunched its research vessel monitoring program, the Sentinel. It was the first time since the 1970s that DWR didn't have a monitoring vessel taking field samples in the waters of the Sacramento-San Joaquin Delta and San Francisco Estuaries.
"It feels great to be back on the water," said Eric Santos, Sentinel Captain and DWR chief fisheries vessel engineer. "I am excited about continuing our commitment and ensuring that water quality data is provided in a timely matter to the scientific community. Good water quality is essential for maintaining healthy ecosystems and meeting the needs of millions of Californians."
As the flagship of DWR's Environmental Monitoring Program (EMP), the Sentinel is used as a floating laboratory that monitors water quality and ecosystem biology in the Delta and San Francisco Estuaries.
"After the June sampling events we will re-evaluate what worked and what can be improved so we can continue our field sampling in July and beyond," said Dr. Sarah Lesmeister, DWR senior environmental scientist.
The relaunch has the Sentinel crew adapting to a new way of working on the 60-foot, 36-ton vessel under COVID-19 guidelines, such as physical distancing and face coverings.
"The biggest challenge has been grouping staff so that they work exclusively with the same team members every voyage," Lesmeister said. "This way if one member of a group begins experiencing symptoms consistent with COVID-19, all members of that group can be removed from field sampling."
Along with staff grouping, crewmembers are required to travel individually to and from rendezvous points, are not allowed to congregate in communal areas, and must wear face coverings and disposable gloves while performing job duties.
"Getting the Sentinel back out on the Delta is important to maintain long-term monitoring data so we can track long-term status and trends in water quality and aquatic biology in the Delta," Lesmeister said.
The Sentinel monitors health and quantity of phytoplankton (microscopic marine algae), and zooplankton (living organisms found in bodies of water) in the Delta. Both are important because the health of these two organisms gives scientists an idea of the health of larger species that rely on them to survive. Along with this type of organism monitoring, the Sentinel is also capable of studying changes to water temperature, salinity, and depth.
View our
Pixel gallery
for past images of the Sentinel research vessel in action. For more information and history on the Sentinel program, check out our
April 2020 article.