Stream Gages Help Californians Better Understand Water Resources
Published: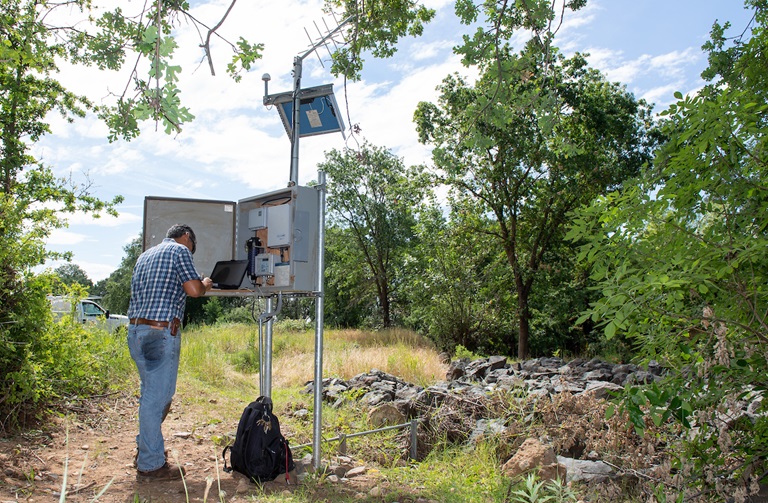 Stream gages are critical for managing California's water resources. The devices help with early flood warning and generate important data used by the Department of Water Resources (DWR), and other state and federal agencies.
A stream gage is a structure installed beside a river or stream containing equipment that measures and records the water level of the stream. Stream flow is then computed. In winter and spring, the total flow is essential in calculating potential downstream flooding and allows emergency managers to provide early flood warning.
"Stream gages can also help manage surface water and affect water management decisions – such as maintaining how much water is in a reservoir, creek or stream," explained Teresa Connor, DWR Branch Chief in the Northern Region Office.
"The data is also used in climate change and other studies, and in monitoring conditions for fish and wildlife. It can even help people trying to decide if they go rafting or fishing on a stream," she added.
DWR is installing stream gages to help implement SGMA
The gages provide valuable information for local groundwater sustainability agencies creating plans to manage their groundwater for long term sustainability as required by the Sustainable Groundwater Management Act (SGMA). DWR committed nearly $5 million in Proposition 68 grant funding to install and maintain 29 stream gages in basins where groundwater sustainability plans are required. The valuable data generated will help water managers develop, implement and monitor their 20-year groundwater sustainability plans and can help them plan groundwater recharge and other projects.
Connor oversees the installation of the stream gages funded by Proposition 68 and works with DWR staff in each of the department's four regional offices. In the North Central Region Office, Kenny Karcher, Surface Water Data Section Chief, said the devices help groundwater managers better understand their basins by providing data which shows long term trends in how surface and groundwater interact.
Abi Aderonmu, Watermaster Service Section Chief in DWR's Southern Region Office, said the streams in his area of arid Southern California flow seasonally and the stream gages his team installs provide valuable information on how much water is coming in from the watershed, which helps SGMA water managers determine their water budgets.
Stream gages have historical importance
Stream gages have a long history in California. In the late 1800s, California's first state engineer had a permanent system of 200 stream gages installed along various rivers to help with flood control. Now, there are about 1,300 active stream gages with data collected every 15 minutes and posted online every hour. Of those, DWR will have a network of more than 200 stream gages once the Proposition 68 installations are completed in 2021.
Les Grade, Surface Water Investigation Section Chief in DWR's Northern Region Office explained that before the 1990s, stream gages were much like a grandfather clock with a pendulum to keep accurate time and foiled paper tape to store water data information. Every 15 minutes, the device would punch a small hole in the tape. The tape then had to be manually collected and inserted into a machine to process the punches into electronic data. Now, the equipment and processes are all computerized using state-of-the-art sensors, data recorders, and computer programs that transmit near real time data to the internet where it is then made publicly available on the California Data Exchange Center.
Once a stream gage is installed, DWR staff ensures the equipment is working properly, repairs any storm damage, and regularly conducts stream flow measurements. The stream gage team also reviews the data annually to determine if it is accurate. Staff notes anomalies that may have been caused by debris or other factors that could alter and change the data. The finalized data is made available in DWR's Water Data Library.
For more information, visit DWR's website.