Stay in the Know about Oroville with the California Department of Water Resources
Published: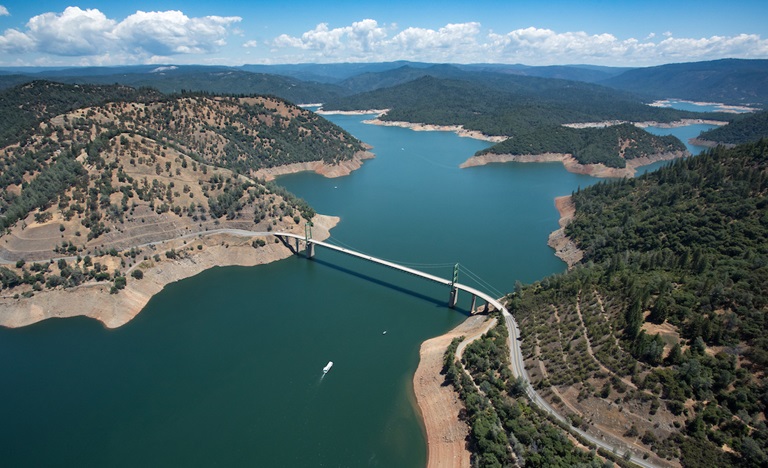 Stay in the Know about Oroville with the California Department of Water Resources
The California Department of Water Resources (DWR) owns and operates the Oroville Dam facilities for a number of purposes, including flood control, water supply, environmental and water quality needs, and recreation. DWR is working to proactively share information on Oroville Dam operations in a variety of ways—websites, advertisements, social media and email updates—on topics such as annual milestones, weather forecasts, operational updates and events. In addition, DWR has developed a robust public outreach program to update the local community, elected officials and all who are interested in the Oroville facilities and operations. DWR shares information at community events, gives presentations to organizations and agency partners and works in close coordination with local organizations, such as the Oroville Chamber of Commerce, to help bolster tourism and promote key initiatives.
A key source for news and updates is the DWR website. The website is regularly updated with blog posts, public notices, program updates, press releases, and upcoming events. In addition, the public can visit the California Data Exchange Center (CDEC) webpage for more in-depth updates on Oroville reservoir levels, precipitation, river stage sensors and flood forecasting.
Every Sunday, DWR places an advertisement in the Chico Enterprise-Record with information about how incoming weather forecasts may affect operations, reservoir lake levels and releases, upcoming community meetings, construction updates around the area and notifications of ongoing events. The Sunday edition of the Chico E-R is also delivered to all subscribers of the Oroville Mercury-Register.
Community residents are encouraged to sign up for a community update email, which is sent out on Fridays or as needed, by emailing their request to Oroville@water.ca.gov. The community can also follow DWR on our social media channels, including Twitter, Facebook, Instagram, Pixel and YouTube, for regular updates about operations, weather and other events that may be of interest.
The community can use the DWR website, social media and community updates to access information about various milestones, requirements and programs related to the Oroville reservoir, some of which include:
Water Supply Allocations: Near the end of every calendar year DWR releases an initial estimate of the amount of water deliveries State Water Project contractors can expect in the following calendar year. This initial estimate is updated throughout the precipitation season and is shared via website and social media.
Required Releases: DWR is required to release water from Oroville reservoir for environmental, wildlife, water quality, and water supply needs. The weekly Oroville email update provides information on how much water is being released for those needs.

Using the Main Spillway: DWR has a process in place to notify the public and media before activating Oroville's main spillway, through social media, press releases and in the weekly email notification.

Operations Plans: DWR submits an annual flood operations plan for Lake Oroville to the United States Army Corps of Engineers, the California Division of Safety of Dams and the Federal Energy Regulatory Commission for review. This flood operations plan outlines how DWR manages lake levels during the rainy, winter months to provide required flood protection to downstream communities. This annual plan complements the Army Corps' existing water manual for Lake Oroville, put in place in 1970.
Weather Forecasts: DWR monitors weather forecasts daily to make forecast-informed decisions about how to operate and manage the Oroville reservoir. Significant operational changes due to weather forecasts, such as when DWR might use the main spillway, are included in the weekly Oroville email update and posted on DWR's social media channels.

Atmospheric Rivers: Atmospheric rivers are types of storms that contain large amounts of water vapor and can create extreme rainfall and snow. DWR partners in a program called Forecast Informed Reservoir Operations, a program aimed at understanding and predicting atmospheric rivers to make better decisions regarding Oroville reservoir operations and better coordinate reservoir operations statewide.

Snow Surveys: DWR coordinates the statewide snow survey program to collect, analyze and disseminate data from snowpack results across the Sierra. The amount of water contained in Sierra snowpack assists water managers statewide to make decisions about how much water to release or store in reservoirs. The snow survey is conducted monthly starting in January until May or June, depending on snow conditions, and results are shared via press releases and social media.
Reservoir Information: The California Data Exchange Center provides real-time data on the status of the State Water Project's reservoirs. DWR has included information on reservoir levels to better communicate lake elevations to the public. Viewers of the

Interactive Reservoir Daily Graph – Water Supply

can now click on the reservoir's graph to obtain the most recent information including lake elevations. Additional reservoir information can be found by clicking the 'Reservoirs' tab at the top of the CDEC home

page

.
Emergency Action Plan: Oroville Dam's Emergency Action Plan (EAP) was one of the first approved by the California Office of Emergency Services under new legislation requiring updated EAPs passed in 2017. Complying with existing requirements from the Federal Energy Regulatory Commission, Oroville Dam consistently operates with an EAP. The latest revision provides a comprehensive plan for responding to a variety of emergency scenarios involving Oroville Dam and its related facilities. Oroville Field Division, responsible for the operation of the Oroville Dam Complex , works actively with local emergency response and assistance agencies, law enforcement partners and community organizations to prepare, plan and respond to emergencies, including providing 'real-time' training to area partners.

In the event of an emergency situation, DWR notifies these local agencies in accordance with the approved EAP. DWR then coordinates with the Butte County Sheriff's Office, as the lead local law enforcement agency, to notify the public and the media regarding the status of emergency situations.
For questions about the California Department of Water Resources or if you are interested receiving the weekly community update, please email oroville@water.ca.gov.