In Memoriam of DWR's Leader William Gianelli
Published: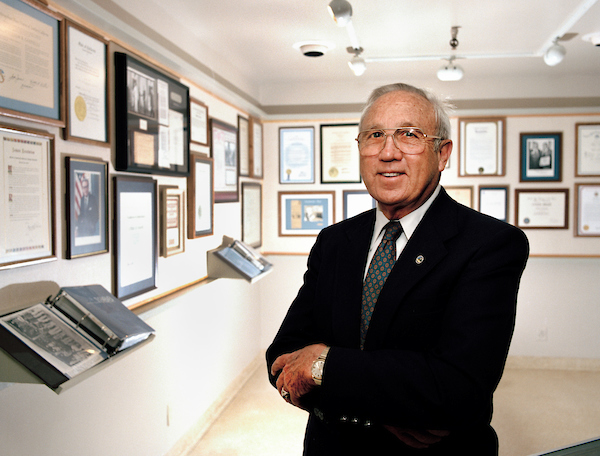 William Gianelli, the Department of Water Resources' (DWR's) third Director, passed away at the age of 101 in Monterey, California on March 30. Known for being an engineering expert, water community leader, and champion of the State Water Project (SWP), Gianelli dedicated more than 30 years to public service in both state and federal government.
"Every day Californians benefit from William Gianelli's leadership," said DWR Director Karla Nemeth. "DWR is lucky to have had someone with his expertise and commitment to public service at the helm during the development of the State Water Project. His service to the state and country throughout his entire career will be remembered for years to come."
Under Gianelli's leadership as DWR Director from 1967 to 1973, DWR completed construction of the initial SWP facilities, reached the peak of its workforce with 4,600 employees, and began delivering water to Southern California. Gianelli started his DWR career under Edmund G. "Pat" Brown when the Department was planning for construction of the SWP and then as Director led construction under then Governor Ronald Reagan.
"Bill Gianelli was a major force in the development of the State Water Project and a pioneer in water education," said Judge Ronald B. Robie, who served as DWR Director from 1975 to 1982.
Born and raised in Stockton, California, Gianelli spent his teenage years as a Sea Scout sailing around the Delta channels. After seeing how the Delta was impacted by the drought in the early 1930s and the benefits from construction of Shasta Dam upstream, Gianelli became interested in the engineering of dams. He graduated from the University of California, Berkeley with a Civil Engineering degree in May 1941, then was called to active military duty.
He served the U. S. Army for more than 42 months overseas during World War II. He was assigned to build defense structures in Hawaii a month after the Pearl Harbor attack. Gianelli was discharged with the rank of Major in 1945.
Gianelli became one of the first engineers hired after WWII by the Division of Water Resources, which later became DWR. In 1946, he joined as a junior engineer working as a watermaster and on snow surveys. As special assistant to DWR's first Director, Harvey Banks, Gianelli held a key role in helping move the Burns-Porter Act through the legislature, which resulted in the 1960 approval for funding the SWP's construction.
He became a private consultant in water resources in 1960 until he was appointed as DWR Director in October of 1967. As key water policy advisor to then Governor Reagan, Gianelli developed a strategy to overcome a fiscal shortfall that was threatening the SWP's construction.
While construction took place on the nation's largest state-built water and power system from Lake Oroville in Butte County to Lake Perris in Riverside County, Gianelli was often in the field, checking on construction progress, meeting with key supervisors, and making decisions on a variety of design and construction challenges.
SWP facilities, such as Delta Pumping Plant, Oroville Dam, San Luis Reservoir, Gianelli Pumping Plant, Edmonston Pumping Plant, and Perris Dam, were completed during Gianelli's leadership. As many of these SWP milestones were achieved, Governor Reagan, who Gianelli often credited for the SWP's completion, joined Gianelli at several of the opening ceremonies.
During his state service, Gianelli was also a member of the Western States Water Council, the State Personnel Board, and the Public Employees Retirement System.
From 1981 to 1984, he served under President Reagan as the third U.S. Assistant Secretary of the Army of Civil Works, with jurisdiction over the U.S. Army Corps of Engineers and Arlington Cemetery, and then as Chairman of the Panama Canal Commission during controversial time after transition of ceding the canal to Panama. Gianelli ended his engineering career a private consultant in water resources.
His commitment to water education led him to serving as a founding board member of the Water Education Foundation. In 1977, Gianelli became President of the Foundation from 1985 to 1989 and served as a board member for several years. The Water Leaders program, which was created in 1997 and named for him, was one of his great legacies resulting in about 400 graduates of water community leaders.
"Bill believed in the goal of the mentorship program to have young diverse professionals interact with various different leaders from all sides of the water world," said Rita Schmidt Sudman, Water Education Foundation Executive Director from 1979 to 2014. "As president of the Foundation, he upheld the Foundation's strong editorial position in producing unbiased water news."
After ending his DWR tenure, Gianelli continued to maintain his profound interest in DWR and California's water. He often advised DWR leaders, including former Director Robie, and regularly visited DWR facilities, including the Romero Visitors Center where his DWR memorabilia is being displayed. Gianelli Pumping Plant in Gustine, California was renamed in his honor.
Gianelli's legacy spans throughout and beyond his career. For DWR, he played a vital role in the building of the SWP, a major water triumph validated in 2001 by the American Society of Civil Engineers by their selection of it as one of the greatest American engineering achievements of the 20th century.
As the last of the great engineers of his generation, Gianelli will be missed.
Donations can be sent in memory of William Gianelli to Water Leaders program of the Water Education Foundation.