DWR Pilots Water Education Program for Delta Middle School Students
Published: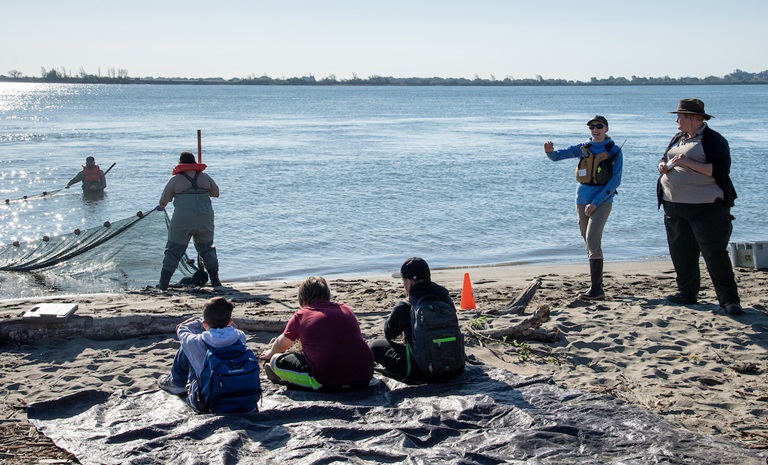 Earlier this year, scientists from Department of Water Resources (DWR) and U.S. Fish and Wildlife Service (USFWS) took a break from their daily monitoring and research activities and stepped into sixth, seventh, and eighth-grade classrooms at Riverview Middle School in Rio Vista.
Rio Vista, located in south eastern Solano County, is situated within the Delta region along the Sacramento River, about 40 miles southwest of Sacramento. The Delta, known for being the central watershed of the State Water Project (SWP) and the federal Central Valley Project (CVP), is also one of the largest farming regions in the country.
"Getting youth and the community excited about the daily work we do right in their backyard is what this program is really all about," said DWR project manager Dr. Melinda Baerwald. "We're excited to engage with the community and help them understand why we say their region is at the heart of what we do."
Close to 200 students were able to learn about California's water resources from lesson plans created in collaboration with DWR, USFWS, and the Solano Resource Conservation District (RCD). The multiple-lesson water education program is offered in the classroom and also in-the-field. It is the beginning of a pilot middle school education program taught by scientists within DWR's Division of Environmental Services (DES).
"We're hoping to show students that protecting the region's water resources and ecosystems are important," Dr. Baerwald said. "We see it as an investment in our future; especially if we can inspire even one student to consider a career in science or engineering."
The outreach with Riverview Middle School isn't the only way DWR is advancing their mission and getting involved with students and Delta communities – this first wave of educational opportunities is a precursor to a proposed Rio Vista Estuarine Research Station (RVERS), a multi-agency monitoring and research station set to be built at the site of a decommissioned U.S. Army base in Rio Vista. The site will serve as a hub for the Interagency Ecological Program (IEP) and bring more avenues for community engagement to the area.
"IEP is a partnership of nine state and federal agencies that conduct aquatic monitoring in the Delta," Dr. Baerwald said. "RVERS would provide synergy for all those agencies to collaborate more frequently. Locating RVERS in Rio Vista will provide a positive agency presence not only for IEP staff, but a positive DWR presence in the community as well."
RVERS, as proposed, would be an 11-acre site with 102,000 square feet of office and laboratory space, as well as direct Delta access with storage for research vessels and equipment. Current plans being considered for the station include building it alongside a U.S. Fish and Wildlife (USFWS) fish technology center that will also be located on the property.
The project, if implemented, has the potential to bring almost 200 new jobs to the Rio Vista area.
The Rio Vista Middle School education program was set to run until March 26 but was cut short due to school closures and program restructuring caused by the COVID-19 emergency. DWR hopes to continue the education program with Riverview Middle School at a later date, with a long-term goal to connect and engage with more students at schools throughout the Delta in the coming years.
View our gallery for more photos.