DWR Donates Personal Protective Equipment to Medical Center Combating COVID-19
Published: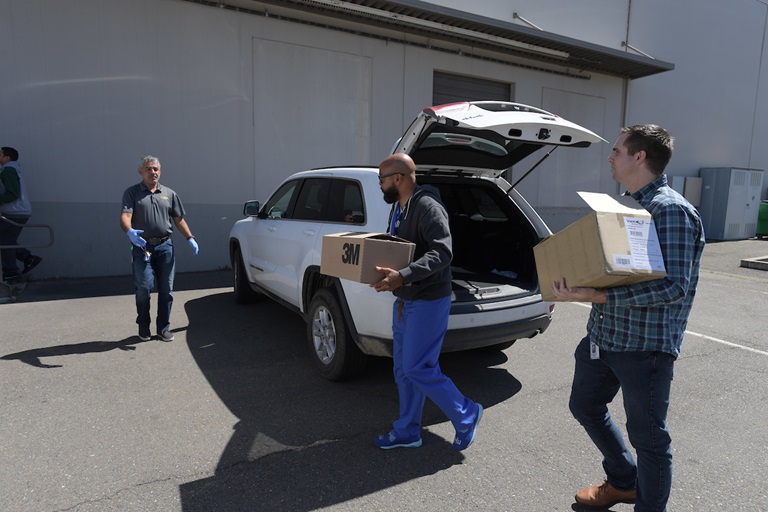 Staff with the Department of Water Resources (DWR) have gathered Personal Protective Equipment (PPE) from various divisions to donate to the UC Davis Medical Center in Sacramento.
"Due to the Governor's guidelines, all non-essential lab work has been put on hold," said Associate Safety Engineer Evan Kopshy with DWR'S Division of Environmental Services (DES). "This means a lot of the safety gear and equipment usually being used is just sitting on shelves."
As programs within DES have moved to teleworking or have been put on temporary hold, the need for using PPEs is no longer immediate. At the same time hospitals are preparing for cases of COVID-19 to peak within the coming weeks and essential medical equipment like N95 safety masks and non-latex medical gloves are in short supply. Last week Sacramento County officials announced the need for donations locally, which prompted Kopshy to work with management within DES to make a donation of PPEs possible.
"I am amazed how quickly DWR was able to act on this," said Kopshy. "It goes to show how serious the situation is to the leadership of our department."
The desire to help was so strong for DES, that what started as a drive to collect as many N95 masks and non-latex medical gloves as possible, quickly turned into DES collecting other PPEs to donate as well.
"As I started gathering masks, people were offering me all sorts of other PPEs," Kopshy said. "Dust masks, goggles, and aprons have all been added to the donation based off what medical professionals may need."
In all Kopshy was able to collect close to 430 N95 masks and 9,800 non-latex medical gloves from three different divisions within DES. Those, along with all other PPEs were donated to UC Davis Medical Center in Sacramento, which was one of the first hospitals in the County to treat COVID-19 patients.
"With everything else the medical community has to worry about, we're just hopeful that DWR can make things just a little bit easier," said Kopshy
DWR's Division of Environmental Services is located in West Sacramento and is responsible for innovative science and technology associated with maintaining and protecting California's water supply. DES is part of DWR, which continues to provide a clean and reliable water supply to 27-million Californians and 750,000 acres of farmland throughout the state while also maintaining our core function of dam safety, flood protection and infrastructure maintenance.
For more photos, view our Pixel gallery.
View our video: DWR Donates Personal Protective Equipment to Sacramento Hospital