DWR Celebrates the Completion of Tidal Habitat Restoration in the Delta
Published: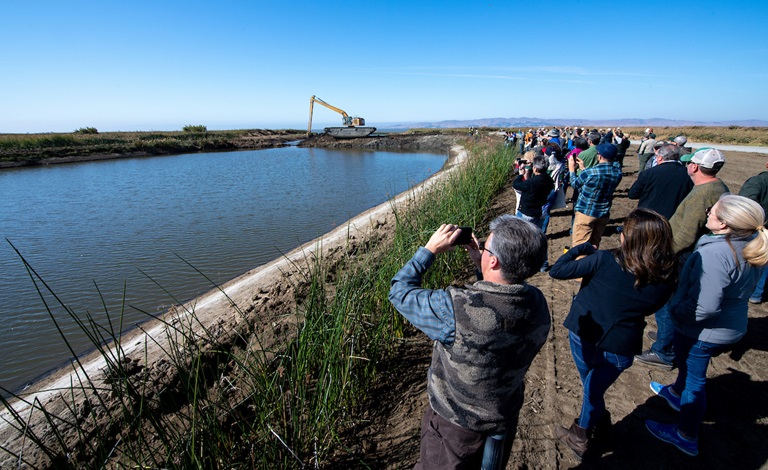 The Department of Water Resources (DWR) gathered with its partners and contractors Oct.15 to celebrate the completion of the 460-acre tidal wetland known as Tule Red in the Suisun Marsh.
More than 100 attendees watched as a giant excavator perched on top of a 200-foot wide levee removed the earth separating the high tides of Grizzly Bay from the interior channels. The crowd cheered as tides began flowing over the breached levee. With the site opened to the daily tides, this ideal location along the Grizzly Island Wildlife Area will provide much needed habitat to benefit endangered fish and wildlife species.
This pivotal restoration project was implemented by a multi-agency public-private team including the State and Federal Contractors Water Agency, Westervelt Ecological Services, and DWR, with the Department of Fish and Wildlife (DFW) set to take over the long-term management.
The need to address declining fisheries and the Delta ecosystem has united many unique collaborators. Many of the same scientists, engineers, resource managers, and elected officials watching the breach had gathered at the same site three years ago to celebrate the project's groundbreaking.
"DWR is proud to support this effort and is looking forward to continuing these partnerships and seeing habitat benefits on the ground," said Ted Craddock, DWR's Deputy Director of the State Water Project.
For DWR, Tule Red will provide credits toward the 2008 US Fish and Wildlife Service mandate to create 8,000-acres of tidal wetlands to benefit Delta smelt. After construction is complete, DWR obtains credits through a credit letter towards meeting this federal mandate.
This is the fourth EcoRestore project implemented by DWR to count toward the 8,000-acre restoration obligation and the second to complete construction this year. Not far away, at the confluence of the Sacramento and San Joaquin rivers near Antioch, 500 acres of tidal wetland recently completed construction on Winter Island.
Both Tule Red and Winter Island are funded by the State Water Project contractors to support a reliable water supply for Californians and protect native fish at risk of extinction. DWR and DFW, through the Fish Restoration Program, will continue to oversee these wetlands to ensure habitat goals are met overtime.
Read DWR's previous article on Tule Red for more information.