DWR Gets Four-Legged Help to Prevent Wildfires
Published: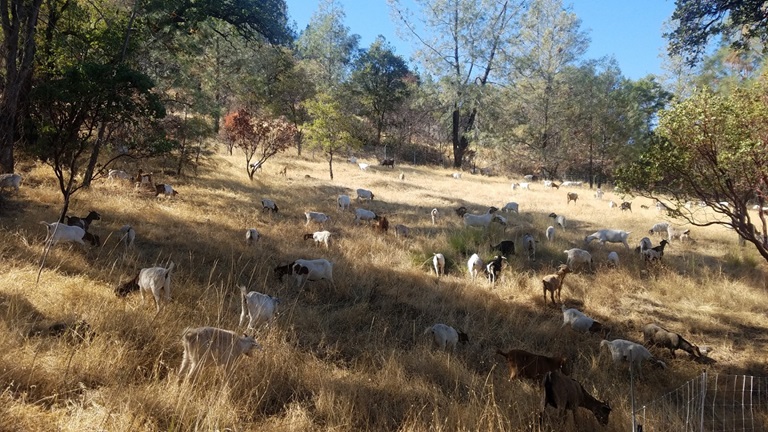 The steep hillsides around Lake Oroville's Lime Saddle recreational facilities in Butte County are covered with dry grass and underbrush. This week, nine acres in the Camp Fire footprint near Lime Saddle's Parrish Cove will be covered by over 500 goats and sheep in an effort to reduce wildfire risk.
The grazing animals will help maintain a Department of Water Resources (DWR) and Butte County Fire Safe Council (BCFSC) fuel reduction project completed during the winter of 2016-17.
Grazing is gaining popularity across California as a sustainable method to minimize risk and lessen the spread of a wildfire through vegetation management. The goats and sheep at Parrish Cove will graze on grasses, leaves, poison oak, and a variety of shrubs and trees. By standing on their hind legs, they can reduce ladder fuels up to six feet high. And they love to eat weeds, especially invasive ones.
The grazing area will be cordoned off with an electric fence for approximately one week and warning signs will be posted for public safety. Shepherds will be present to protect the animals while they work. The public is urged to stay clear of the electric fence and keep pets away so the goats and sheep are not disturbed.
The DWR Fuel Load Management Program was approved in 2012 and continues to provide valuable benefits. DWR, along with partners CAL FIRE, the California Conservation Corps, BCFSC, Butte County Sheriff's Office, and Department of Parks and Recreation are all working together to accomplish the same common goal -- reduce wildfire risk, increase public safety, and enhance forest health in areas around Lake Oroville.
To date approximately 450 acres have been treated around the Lake Oroville area by DWR and its partners. DWR's Oroville Field Division is planning to use grazing as a maintenance method on other recently completed fuel reduction projects. New projects will be starting in October and continuing through Spring 2020.