Lake Oroville Community Update: October 18
Published: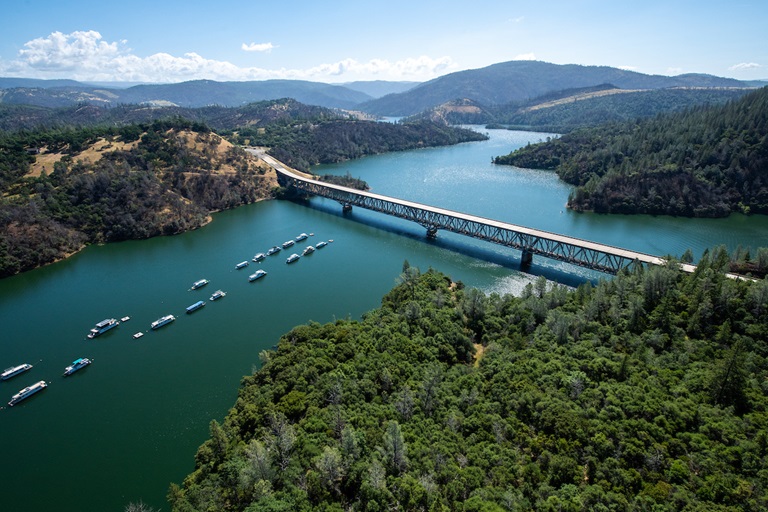 2019-2020 Operations Plan for Lake Oroville
The California Department of Water Resources (DWR) submitted its 2019-2020 flood operations plan for Lake Oroville to the Federal Energy Regulatory Commission (FERC) and California Division of Safety of Dams (DSOD) last month. DWR will operate the reservoir to safely manage lake levels during the winter months, providing flood protection for downstream communities while meeting downstream water deliveries and environmental requirements. Because the Oroville Dam Safety Comprehensive Needs Assessment (CNA) is still ongoing, this year's operations plan maintains the same enhanced flood pool as the 2018-2019 winter operations plan. The CNA will provide additional information to guide long-term operations of Oroville Reservoir.
Oroville Dam Safety Comprehensive Needs Assessment (CNA) Ad Hoc Group Meeting Held Earlier This Week
An Oroville Dam CNA Ad Hoc meeting took place on Wednesday, October 16 at 2 p.m. The goal of the Oroville Dam CNA is to identify priorities and appropriate solutions to bolster the integrity and resiliency of the Oroville Dam complex to ensure public safety. The primary role of the Ad Hoc Group is to communicate with the broader community about the CNA process and share community concerns or questions with DWR and the Independent Review Board.
For details about this meeting or past Oroville Dam CNA Ad Hoc meetings, visit: https://water.ca.gov/Programs/State-Water-Project/Oroville-Dam-Safety-Comprehensive-Needs-Assessment
Loafer Creek Controlled Burn Conducted Earlier This Week
On Tuesday, October 15, firefighters conducted a controlled burn at Loafer Creek in order to reduce future fire hazard and improve natural habitat and rangeland. Approximately 100 acres was treated. This work was a cooperative effort between CAL FIRE/Butte County Fire Department, DWR and the California Department of Parks and Recreation.
Fuel Load Management Project at Bidwell Canyon Requires Intermittent Lane Closure
The California Conservation Corps (CCC) began a vegetation thinning and chipping project to minimize risk and lessen the spread of wildfire on Monday, October 14, and will continue through November 1. The work will take place adjacent to Bidwell Canyon Road just before the Bidwell Canyon California State Parks entrance kiosk. At the end of each week, CCC's chipping of removed brush will require one-way traffic controls due to a required lane closure. Drivers are cautioned to be alert for workers and flaggers.
Public Access to the Spillway Boat Ramp Area and Dam Crest Road
As a reminder, the Spillway Boat Ramp area and parking lots are open to the public Friday through Sunday from 5 a.m. to 11 p.m. The area remains closed Monday through Thursday to accommodate ongoing construction. Walkers, joggers and bicyclists continue to enjoy daily access to the pedestrian lane on the lakeside of Dam Crest Road from 5 a.m. to 11 p.m., as well as parking at the Upper Overlook. For safety considerations, the public can only drive across Dam Crest Road within the operating hours of the Spillway Boat Ramp, which are Friday through Sunday from 5 a.m. to 11 p.m.
Lake Level
The current elevation of Oroville reservoir is 792 feet, and daily average water releases from Lake Oroville are approximately 1,580 cubic feet per second (cfs) including 2,450 cfs release to the high flow channel of the Feather River, downstream of the Thermalito Afterbay River Outlet.
###
Know someone who would like to receive Community Updates? They can email their request to oroville@water.ca.gov.