Lake Oroville Community Update: October 4, 2019
Published: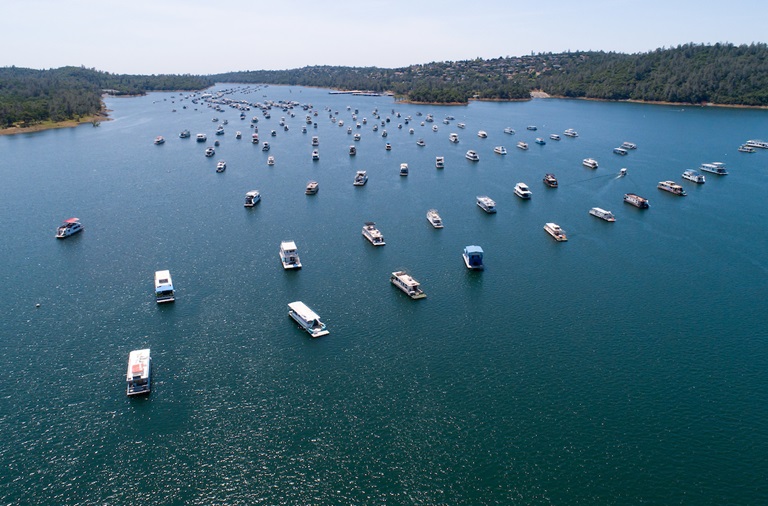 2019-2020 Operations Plan for Lake Oroville
The California Department of Water Resources (DWR) submitted its plan for 2019-2020 flood operations to the Federal Energy Regulatory Commission (FERC) and California Division of Safety of Dams (DSOD) this week. DWR will operate the reservoir to safely manage lake levels during the winter months, providing flood protection for downstream communities while meeting downstream water deliveries and environmental requirements. The 2019-2020 plan is to operate the same enhanced flood pool as the winter operations plan that was put in place for the 2018-2019 winter season.
Inaugural Oroville Dam Citizens Advisory Commission Meeting Held Last Week
Thank you to everyone who participated in the inaugural Oroville Dam Citizens Advisory Commission meeting, which took place on Monday, September 30. A summary and transcript of the meeting will be uploaded to the Oroville Dam Citizens Advisory Commission webpage in the coming weeks.
For details about the Commission's next meeting and for more information about the commission, visit: http://resources.ca.gov/oroville-dam-citizens-advisory-commission/.
CAL FIRE to Conduct Controlled Burn at Loafer Creek Recreation Area
CAL FIRE may perform a controlled burn at Lake Oroville State Recreation Area's Loafer Creek facility on Monday, October 7. If executed, the controlled burn will strategically reduce future wildfire risk for a total of 105 acres.
Spillway Construction Site Office Trailers to Temporarily Relocate to Upper Overlook
As construction winds down at the Oroville Spillways Emergency Recovery Project, four construction office trailers will be temporarily relocated in early October to the Upper Overlook parking lot. The offices are expected to remain in the parking lot for at least two months. Public parking at the Upper Overlook will not be impacted.
Fuel Load Management Project Receives Four-Legged Help
More than 500 goats and sheep will assist DWR to maintain a fuel reduction project on the steep hillsides around Lime Saddle's Parrish Cove for approximately 4-8 days beginning Oct. 1. Grazing is gaining popularity as a sustainable method to minimize risk and lessen the spread of wildfire through vegetation management. The grazing area will be cordoned off by an electric fence and warning signs will be posted for public safety. Shepherds will be present to protect animals, and the public is urged to stay clear of the electric fence and keep pets away so the goats and sheep are not disturbed.
Public Access to the Spillway Boat Ramp Area and Dam Crest Road
As a reminder, the Spillway Boat Ramp area and parking lots are open to the public Friday through Sunday from 5 a.m. to 11 p.m. The area remains closed Monday through Thursday to accommodate ongoing construction.
Walkers, joggers and bicyclists continue to enjoy daily access to the pedestrian lane on the lakeside of Dam Crest Road from 5 a.m. to 11 p.m., Monday through Thursday, as well as parking at the Upper Overlook. For safety considerations, the public can only drive across Dam Crest Road within the operating hours of the Spillway Boat Ramp, which are Friday through Sunday from 5 a.m. to 11 p.m.
Lake Level
As of Friday, the current elevation of Oroville reservoir is 799 feet, and daily average water releases from Lake Oroville are approximately 7,500 cubic feet per second (cfs) including 8,000 cfs release to the high flow channel of the Feather River, downstream of the Thermalito Afterbay River Outlet. DWR has begun a gradual ramping down of these Feather River releases during the first half of October to achieve a sustainable spawning flow of 2500 cfs by mid-month.
###