A Reservoir Rising: How DWR is Managing Lake Oroville in an Above-Average Water Year
Published: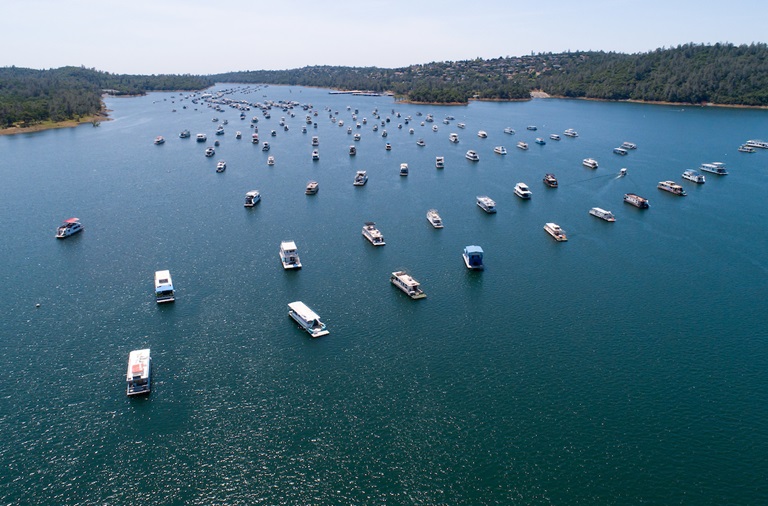 For anyone who enjoys the abundant recreation opportunities at Lake Oroville, a full reservoir is a welcome site after years of drought and lower-than-normal lake levels due to spillway reconstruction. But with above average precipitation and snowpack in the Sierras above the Feather River watershed, the California Department of Water Resources (DWR) is also managing reservoir levels to accommodate for spring inflow.
It's common for Lake Oroville to stay relatively full during the summer months after an above average water year like the one we're experiencing in 2018-2019. In 2010-2011, another very wet year, the reservoir was filled to near-capacity or capacity – an elevation between 898 and 900 feet – for the entire month of July. This provided optimal recreation opportunities and refilled California's vital water bank account to help the entire state get through the tail-end of a prolonged drought.
DWR operates the Oroville reservoir to provide flood protection, water supply, flows for ecosystems and water quality, and recreation benefits. Reservoir levels are managed according to the standard U.S. Army Corps Water Manual and through collaboration with the National Weather Service, the U.S. Army Corps of Engineers, and in coordination with other local, private, and federal reservoir operators including Yuba Water Agency and the U.S. Bureau of Reclamation. DWR makes real-time operational adjustments based on a number of factors and data including snowpack analysis, expected run off, releases from upstream facilities, weather forecasts, and downstream flow and water quality requirements.
To determine how quickly snowpack is melting and how much water will flow into the reservoir, short-term and long-term forecasts are prepared and issued daily by the National Weather Service's California Nevada River Forecast Center and DWR's Division of Flood Management. Reservoir managers then use this data to adjust their short-term and long-term reservoir plans real-time as forecasted conditions change.
Just because DWR isn't using the main spillway, doesn't mean water isn't being released from the reservoir. To manage lake levels DWR primarily relies on the Hyatt Powerplant, located at the base of the dam, to release water from the reservoir. Right now, with a large Sierra snowpack and a reservoir approaching 890 feet in elevation, Hyatt provides enough release capacity to safely manage reservoir levels. Even so, DWR may need to use the main spillway this spring to manage continued runoff from melting snowpack. This year's snowpack is deep and cold and has been slow to melt. This is great for water supply and reservoir conditions.
Because of the high lake levels, there will be no better time than this summer to recreate at Lake Oroville. While there's still the buzz of construction activity up at the dam, we're partnering with the California Highway Patrol, California State Parks and the Butte County Sheriff's Office to reopen access to restricted areas of the dam while ensuring safety and security. We'll soon be announcing our plans to reopen the Dam Crest Road along the top of the dam and the Spillway Boat Launch Ramp later this summer and look forward to bringing these popular and important recreation facilities back to the community.