Major Milestone Achieved at Ronald B. Robie Thermalito Pumping-Generating Plant in Oroville
Published: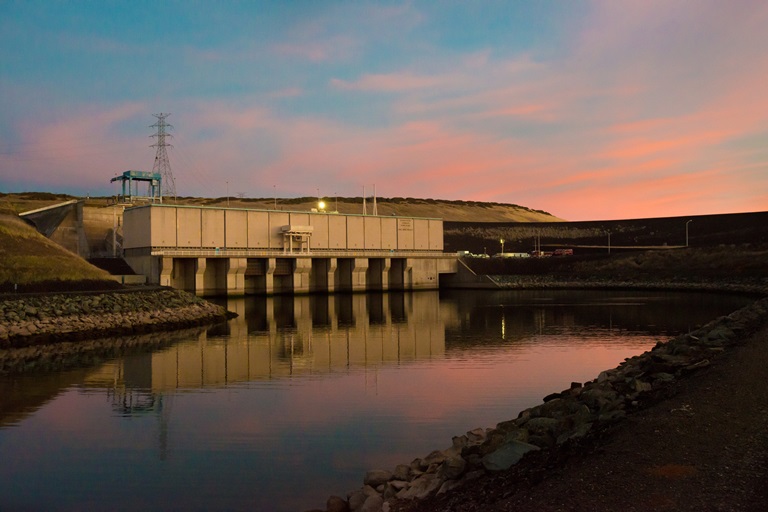 This past December, the Department of Water Resources (DWR) reconnected electricity from Pacific Gas & Electric's Table Mountain Substation to the Ronald B. Robie Thermalito Pumping-Generating Plant in Oroville, a major step towards returning the plant to full operation. A fire in November 2012 destroyed the plant's operating capacity, requiring closure of the facility and its disconnection from the state's electrical grid.
The Thermalito Plant is part of the State Water Project's (SWP) Oroville-Thermalito Complex, the state's largest reservoir. Along with the Hyatt Power Plant at Oroville Dam, the Complex is the SWP's leading generator of hydro-electric power.
The Thermalito Plant produces electricity by transferring water from the Thermalito Forebay to the Thermalito Afterbay through four generating units. Together, these units can produce up to 118 megawatts of electricity, enough to power roughly 100,000 households, adding value to the approximately 714 megawatts produced by Hyatt Power Plant.
After the fire, a full assessment of the plant was conducted and complete restoration of the plant was determined to be the best course of action. The first three phases of recovery – fire cleanup, plant recovery and plant restoration design – were completed in 2016.
DWR has taken advantage of the plant's closure to fully modernize and upgrade the facility beyond what was damaged by the fire. Crews have been constructing the plant with modern fire and life safety features, replacing the plant's inoperable electrical protection, control and communication systems.
Once the new systems and components were in place, compliance with PG&E's strict transmission interconnection requirements was tested and the plant's newly installed main electrical breakers and operational controls passed rigorous inspection.
On December 19, 2018, outside transmission lines to the Thermalito Switchyard were successfully re-energized and the Switchyard was approved for service. This allowed sufficient power to be brought from the Switchyard into the plant as required to fully test the thousands of connections in the plant's new operating system.
The reconnection to full power also allows for the complete testing of all the internal electrical and mechanical systems necessary to resume the operation of the plant's four electricity generating units. DWR anticipates re-starting the first of its four generating units later this spring and resuming the production and transmission of electricity to the state's electrical grid when the plant returns to full operation in the summer of 2019.