Oroville Operations Update : June 7
Published: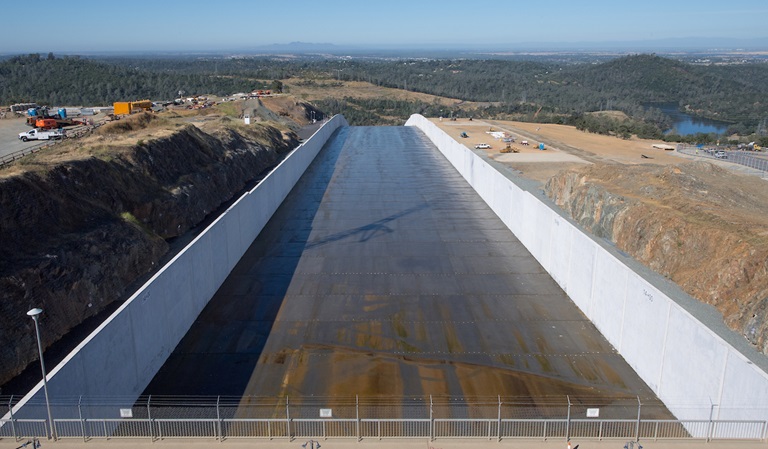 Main Spillway
Due to late precipitation and based on inflows, DWR has taken steps to prepare for potential use of the spillway.
Currently, lake levels are being managed with releases from Hyatt Powerplant. Current outflows from Hyatt Powerplant are approximately matching inflows from snowmelt and precipitation, keeping lake levels stable.
If DWR determines that it is necessary to utilize the main spillway in addition to Hyatt Powerplant to manage lake levels, DWR will notify the public and media. In early April, DWR utilized the reconstructed main spillway to make additional releases from the Oroville reservoir and the spillway operated as designed.
Lake Levels
Water releases from Hyatt Powerplant are approximately 11,553 cubic feet per second (cfs). The current elevation of Oroville reservoir is 894 feet.
A full reservoir is a welcome sight after years of drought and low lake levels to accommodate reconstruction. A filled lake provides optimal recreation opportunities and serves as a vital water bank account to help California cope with future drought conditions. It is common for the reservoir to stay relatively full during the summer months in an above average water year. In 2010 – 2011, another very wet year, the reservoir sat an elevation between 898 and 899 feet for the entire month of July.
Ongoing Work on Dam Crest Road
DWR is aiming to reopen public access to the top of dam (Dam Crest Road) this summer. In anticipation of the public opening DWR crews will start on Tuesday, June 11 to remove small panels from the dam crest roadside barriers that contain asbestos. This work is expected to last for two weeks. Crews will wear protective suits and respirators to clean the panels in accordance with state health and safety regulations. DWR's will share reporting about this work with Butte County Air Quality Management District and California Air Resources Board.
Feather River Fish Hatchery Fish Release
DWR in partnership with the Department of Fish and Wildlife transported more than 883,000 fall run Chinook salmon from the Feather River Fish Hatchery to the Mare Island Net Pen site in San Pablo Bay. Two-thirds of the fish were released Thursday and the remainder were released today.
The program helps improve hatchery salmon survival by avoiding predators in the Feather and Sacramento Rivers. DWR's Feather River fish hatchery produces eight million salmon and 450,000 steelhead each year. DWR has already raised two million spring run Chinook and this week's release is part of our work to release six million fall run Chinook salmon this year.
Know someone who would like to receive Community Updates? They can email their request to oroville@water.ca.gov.