Oroville Operations Update - June 21, 2019
Published: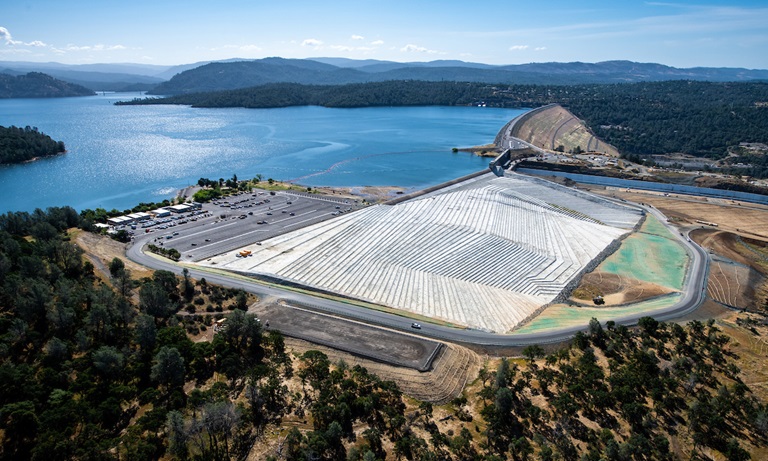 Lake Levels
Water releases from Hyatt Powerplant are approximately 4,009 cubic feet per second (cfs). The current elevation of Oroville reservoir is 895 feet. The Feather River watershed snowpack has mostly melted and use of the main spillway to manage lake levels is unlikely. However, if DWR determines that it is necessary to use the main spillway, in addition to Hyatt Powerplant, DWR will notify the public and media.
A full reservoir is a welcome sight after years of drought and low lake levels to accommodate reconstruction. A filled lake provides optimal recreation opportunities and serves as a vital water bank account to help California cope with future drought conditions. It is common for the reservoir to stay relatively full during the summer months in an above average water year. In 2010 – 2011, another very wet year, the reservoir sat an elevation between 898 and 899 feet for the entire month of July.
DWR Reopening Public Access to Top of Oroville Dam
DWR plans to reopen public access to the top of the dam (Dam Crest Road) next Saturday, June 29 for pedestrians, bicyclists and persons with disabilities. The public will have access to the pedestrian lane on the lakeside of Dam Crest Road from 5 a.m. to 11 p.m., as well as parking at the Upper Overlook. For safety considerations, the public will not be able to drive across the top of the dam.
As part of the reopening, DWR staff will be up on the Dam Crest Road in the morning of the 29th to provide informational materials, answer questions and meet with the public.
DWR, California Highway Patrol and California State Parks are operating Dam Crest Road with new security measures to further ensure public safety at the facilities. Construction activity is ongoing in the area and construction vehicles will be using a portion of Dam Crest Road. Expect slower traffic and please obey all road and traffic signs. DWR has also contracted with the Butte County Sheriff's Office for increased patrols of the Oroville facilities to ensure public safety.
Spillway Boat Launch Ramp Reopening
Access to the Spillway Boat Launch ramp is anticipated to partially reopen in early August. More details to follow.
4th of July Celebration in Oroville
Oroville is always a great place to celebrate Fourth of July. Several local partners including DWR, the Rotary Club of Oroville and California State Parks are hosting a firework show at the Thermalito North Forebay recreation area, as well as at the nearby Feather River Recreation and Park District's Nelson Sports Complex on July 4. Activities will start at the Sports Complex at 4 p.m. and continue through 8 p.m. The fireworks display will start 30 minutes after sunset. Follow the event's Facebook page at Lake Oroville Fireworks for the latest information.
Update on Lake Oroville Algae Bloom
Algae is a natural component of water ecosystems yet certain conditions, including hot weather, can cause algae to grow rapidly causing "blooms" that may harbor harmful toxins. DWR environmental scientists regularly test for toxins throughout the summer. The "Caution Advisory" for a 'bloom' in the Thermalito Afterbay has been lifted as microcystin levels have decreased. A "Caution Advisory" remains in effect for algae found in the upper reaches of Lake Oroville's Middle Fork. Visitors to area waterways are advised to avoid algae or scum in the water which can be hazardous to pets and people, especially children. Watch for advisory notices which will be posted at all boat launch facilities and water recreation sites. For more information, visit California Water Boards website at https://mywaterquality.ca.gov/habs/index.html.