Oroville Spillways Construction Update: February 1, 2019
Published: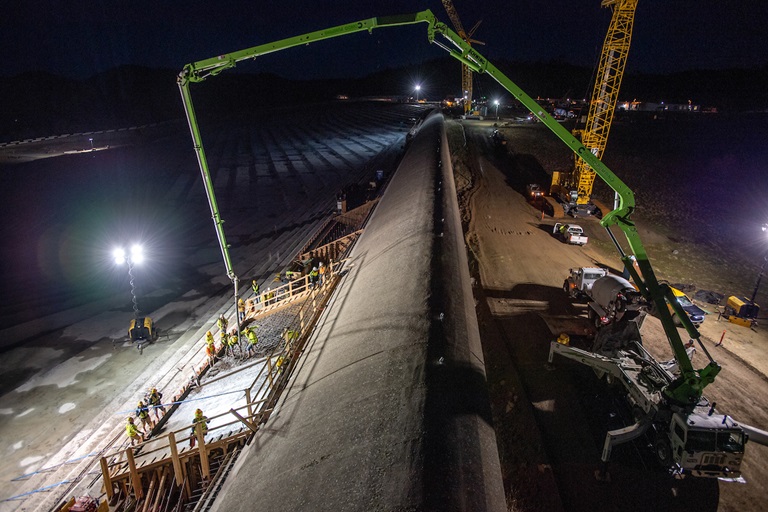 SACRAMENTO, Calif. -- DWR and our main contractor Kiewit are pushing forward to wrap up construction of the Oroville main spillway and emergency spillway.
DWR set a November 1 deadline in 2017 and 2018 to complete all concrete placements on the main spillway in case the main spillway was needed due to heavy winter storms. Lake Oroville has also been managed at a lower elevation to ensure public safety while the spillways were under construction.
By November 1, 2018, the main spillway was successfully reconstructed, meeting DWR's public safety construction milestone by completing placement of all concrete slabs and walls. In fact, DWR met the deadline early with the final concrete placement on October 22, 2018.
The main spillway was rebuilt using a 21st century design and construction techniques and is back to its original design capacity of 270,000 cubic feet per second. Design capacity and operational plans are different - DWR never intends to release more water from the main spillway that goes beyond the downstream levee capacity during regular operation.
Minor finishing work continues on the main spillway, including sidewall backfill, collector drain riser installation and site clean-up. Site rough grading and hillside hydroseeding, is also ongoing and will continue well into the spring 2019.
Work on the emergency spillway will also continue in 2019. Construction crews are currently placing a concrete cap on top of a roller-compacted concrete buttress. The buttress was built to connect the emergency spillway to the roller-compacted concrete splashpad, which is the stair-step section of concrete placed on the hillside below the emergency spillway. At the edge of the splashpad is an underground secant pile cut-off wall, which DWR completed in early 2018. The cut off wall is constructed from concrete pillars drilled into the bedrock at 35 to 65 feet deep. The underground secant pile wall and splashpad on the hillside below will prevent uphill erosion if the emergency spillway is used again.
DWR is committed to reopening the Spillway Boat Ramp and pedestrian access to the walkway across the top of the dam. Our goal is to reopen access in the summer of 2019 with improved security and safety measures.
Additionally, DWR is completing scheduled maintenance on one of the two penstocks that feed into Hyatt Powerplant, with further maintenance scheduled throughout the spring of 2019. Hyatt Powerplant is operating with five of six turbines, with the sixth turbine expected to be refurbished by this summer. The sixth turbine was offline for routine maintenance before the 2017 Oroville spillways incident and that maintenance work was delayed as crews responded to the emergency response and recovery work.
For more information, follow us on Twitter and Facebook, read our news releases and visit our Oroville Spillways webpage.