Applications for DWR's Annual Apprenticeship Exam Now Available: File In-person on May 2, 2019
Published: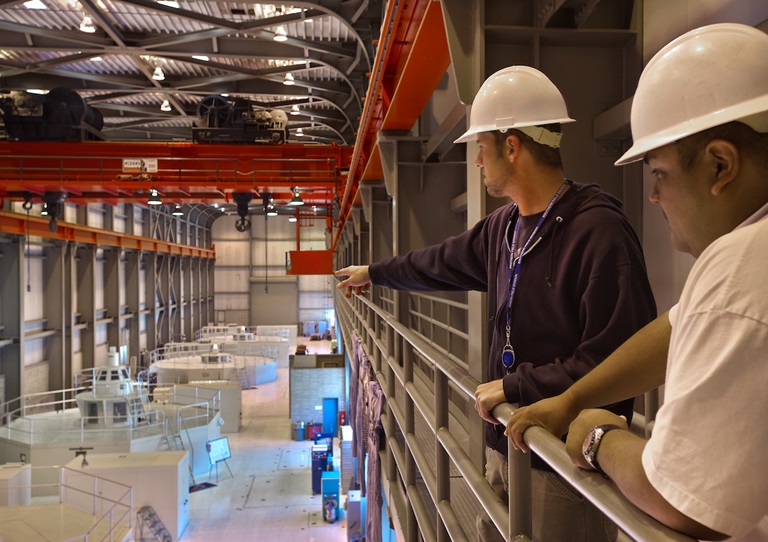 Note: The 2019 application period is now closed. Check back in spring 2020 for information on the next round of applications.
Jump-start a career in the hydroelectric industry and apply for DWR's paid apprenticeship program, which combines supervised on-the-job training, classroom and hands-on-learning, and home study. Upon completion, apprentices are guaranteed a full-time journey-level position with DWR in their field of study.
DWR will accept applications in-person for the apprenticeship program exam on May 2, 2019 – the first step in applying to the program.
"The apprenticeship classes teach us the theories and basic fundamentals of our specific crafts, but working with the journeymen in my own field division really helped me learn the specifics about the equipment we operate at DWR," said Laura Souza, apprentice program graduate and hydroelectric plant operator at DWR's Delta Field Division. "The program taught me everything I needed to know – you don't have to have a background in these crafts, just a willingness to learn."
The Process
On May 2, 2019, for one day only, applicants can file for the apprentice exam in-person from 7:30 a.m. to 4:30 p.m. at one of DWR's field offices (located in Oroville, Byron, Bakersfield, and Pearblossom). Read the exam bulletin on CalHR for information on how to apply for the exam.
DWR staff will review exam applications on the spot. Qualified applicants will then receive a notice of testing to come back for the written exam in June.
Upon passing the written exam, applicants are eligible to apply for the apprenticeship program. Vacancies are posted on CalHR's website, usually in July. Apprentice classes are hired together, one time per year, in December or January.
The Program
DWR offers four apprenticeships:
In the first two years, participants receive formal instruction and complete most tasks under supervision. In the later years, apprentices perform more complex tasks, demonstrating the knowledge, skills, and abilities required on the job. Participants are continuously evaluated and must pass a series of exams to progress through the program.
After completion, graduates will receive a full-time journey-level position with DWR in their learned trade. Graduates are certified through the Department of Industrial Relations and receive a Certificate of Completion in their trade.
For more information, email Kristie.Joyce@water.ca.gov and view the apprenticeship program webpage.