DWR Lead Scientist wins career achievement award
Published: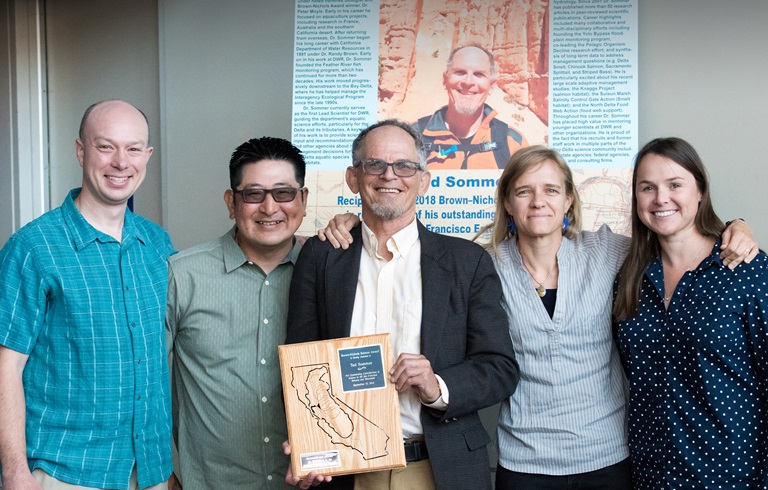 DWR's Lead Scientist Ted Sommer, whose decades of research into fish and ecology has influenced scientific policy and management in California, received a career achievement award Monday at the Bay-Delta Science Conference in Sacramento.
The Brown-Nichols Science Award is a biennial honor for scientists whose research into the San Francisco Estuary and watershed is widely recognized by the scientific community. The award is announced every two years by the Delta Science Program, Delta Stewardship Council and U.S. Geological Survey.
"This is really something different to me. It comes from you, my peers, and it means somewhere along the line I made some bit of difference," Sommer said on Monday while addressing approximately 1,000 attendees at the Bay-Delta Science Conference at the Sacramento Convention Center.
Sommer, who earned the first lead scientist position at DWR in 2014, has primarily focused his work on the ground aquatic ecology of Yolo Bypass in the northern Delta. After earning a Master of Science from University of California, Davis in 1983, Sommer spent five years leading an aquaculture team in western Australia.
He started at DWR in 1991, directing his research at ecology, native fishes and food webs in the Delta. His 27-year career at DWR has seen multiple highlights, including managing the Interagency Ecological Program, founding of the Yolo Bypass floodplain monitoring program, and overseeing large-scale adaptive management studies in the Knaggs Project, Suisun Marsh Salinity Control Gate Action and the North Delta Food Web Action. Sommer also earned his PhD from UC Davis in 2002 while working at DWR.
The Brown-Nichols Science Award honors scientists for widely-recognized contributions to the field, as well as spurring collaboration, mentorship and outreach across California's scientific community. The Selection Committee of the Bay-Delta Science Conference unanimously selected Sommer for this year's award.