Teachers Learn About Climate Change from Project WET Collaboration
Published: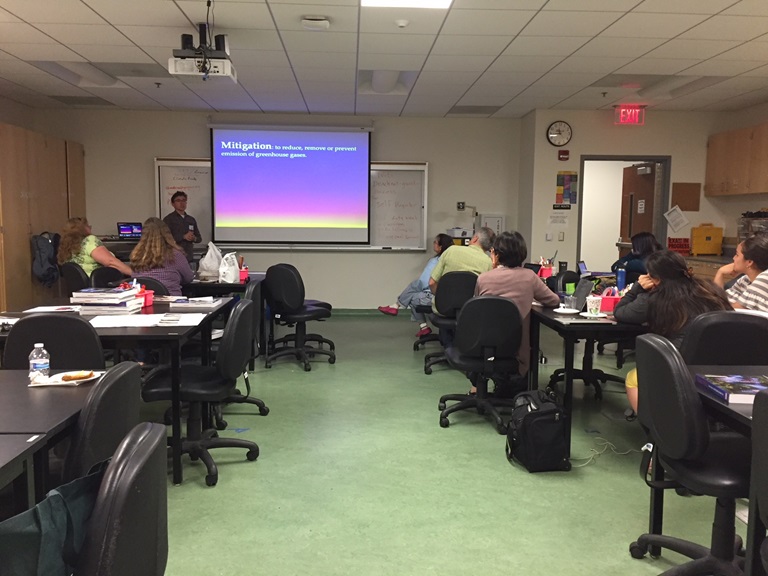 Three upcoming workshops on "Understanding Climate Change in California" will give K-12 teachers the up-to-date science of climate issues to pass on to their students, thanks to a partnership between the Department of Water Resources (DWR) and Project Water Education for Teachers (Project WET).
Sponsored by DWR's Climate Change team and facilitated by Project Wet, this innovative curriculum often highlights the climate change conditions in the event's region. Educators learn the most current climate change data, as well as hands-on activities they can customize to the grade they teach. In past classes, models using ice, clay, and heat lamps demonstrated the physical changes affecting snow pack water supply and other conditions.
Teachers who attend the workshops return to their classrooms with a book of curriculum that can supply months of science lesson plans, all adjustable to their grade level.
DWR sponsors the program to inform more young people about the realities of climate change on the water supply and environment, empowering them to conserve and pass more efficient behaviors onto family members.
Educators can sign up for the San Diego or Humboldt workshops here:
Understanding Climate Change in California
San Diego County
September 29, 2018 8 am – 4 pm
https://www.watereducation.org/project-wet-event/san-diego-county-0
Understanding Climate Change in California
Humboldt County
November 3, 2018 8 am – 4 pm
https://www.watereducation.org/project-wet-event/humboldt-county