DWR Helps Educate Thousands at Oroville Salmon Festival
Published: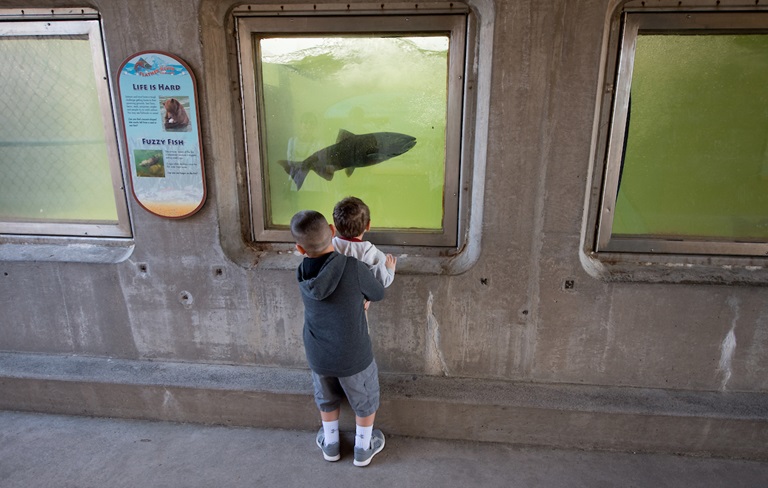 More than 20,000 visitors and residents joined in the festivities of Oroville's annual Salmon Festival on September 22 to welcome Chinook salmon back to the Feather River. Each year, the event brings street fairs, salmon barbeques, music, and kids' activities to Oroville's historic downtown.
Across the "Green Bridge"– built in 1907 – the Department of Water Resources (DWR) led tours of the Feather River Fish Hatchery. Nearly 1,400 children and adults took advantage of the hatchery tours. Many more enjoyed feeding the steelhead fingerlings that live in the hatchery's rearing channels as they wait for their time to be released downstream.
DWR built the fish hatchery to mitigate the impact of the Oroville Dam on Chinook salmon and steelhead populations. The dam blocks access to natural spawning grounds further upstream. The fish hatchery, operated by the California Department of Fish and Wildlife, harvests salmon eggs and milt from fish that succeed in climbing the hatchery's fish ladder from the river.
Fish hatchery tours were just one of the many attractions at this year's festival. Attendees also enjoyed rafting tours down the Feather River with a DWR biologist who shared information about the fish habitat and the Chinook's life cycle and behavior. The guides also explained how DWR works to create a healthy spawning environment for salmon returning to the river after years of living in the ocean.
This community event will be celebrating its 25th anniversary next year. The Feather River Fish Hatchery remains open seven days a week from sunrise to sunset. Tours can be arranged by contacting DWR tour guide Jana Frazier at (530) 534-2306.