Annual Lake Oroville Boating, Fishing Event Provides Lifetime Memories for Children with Special Needs
Published: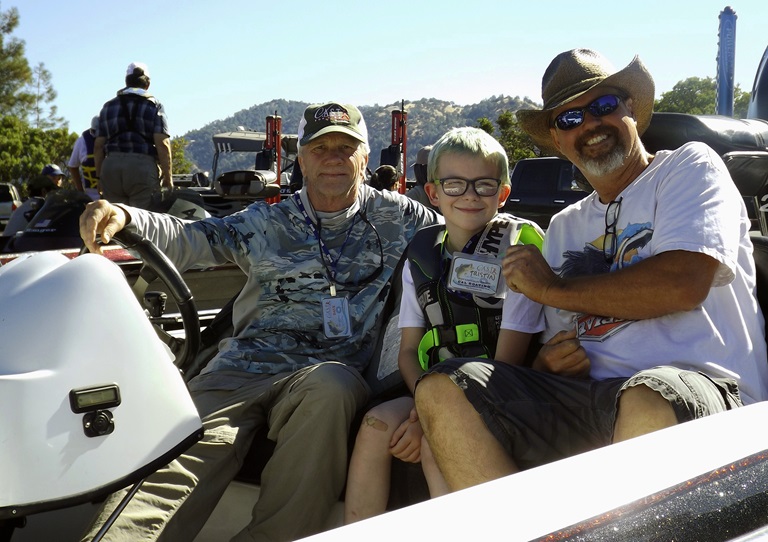 Dozens of children with special needs, and their families, recently enjoyed a day of fun and education on the beautiful waters of Lake Oroville at the 14th annual Catch a Special Thrill (C.A.S.T) for Kids event.
DWR put on the event in Oroville with help from partnering state agencies. The event gives children with disabilities between the ages of 5 and 17 an opportunity to enjoy an outdoor recreational experience through the sport of fishing.
This year's 29 participants learned about boating, water safety, environmental stewardship, and the rules of when to catch and release fish.
Thirty sponsors and 120 volunteers played a significant role in making this year's C.A.S.T event a success. The volunteers included 18 boat captains from the local area who donated their boats, fishing expertise, and time to provide an inspiring and educational experience to their young fishing companions.
Participating children received fishing poles and tackle boxes that they can use again for future fishing adventures. The captains and kids also received commemorative photos, t-shirts, and hats.
Volunteers, boat captains, and participants enjoyed breakfast, barbecue lunch (cooked by the Oroville Kiwanis) live music, and a raffle drawing.
"To see the kids grinning from ear-to-ear and hearing the many heart-felt thank you's from the parents just makes your day!" said Jana Frazier, a DWR guide who helped organize the C.A.S.T event.
The C.A.S.T for Kids Foundation is a public charity formed in 1991 to connect volunteers who love to fish with children who have special needs. The C.A.S.T for Kids Program is an annual event planned and organized by DWR and a committee including representatives from CalFire, California Department of Parks and Recreation, California Department of Fish and Wildlife, and the Division of Boating and Waterways.