Protecting the Delta: Proposition 84 at Work in Lodi
Published: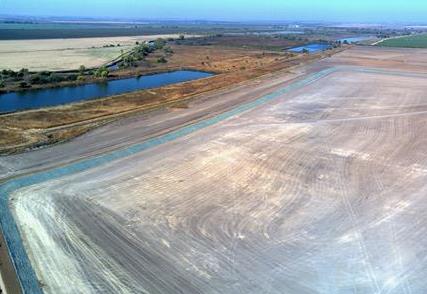 The City of Lodi is expanding its water pollution control facility along the Delta with the help from $4.6 million in grant funding from voter-approved Proposition 84 and the Department of Water Resources. Construction is nearly complete on a 70-acre expansion pond and conveyance structure that will benefit water quality, groundwater supplies, and create new recycled water supplies.
The project creates storage capacity for up to 97 million gallons of recycled water -- enough to fill 6,300 average swimming pools -- that can be put to beneficial use, such as irrigating farmland, instead of being released into the Sacramento-San Joaquin Delta. This will reduce the amount of treated water flowing into the Delta by almost 200 million gallons each year.
In 2006, voters approved Proposition 84, the Safe Drinking Water, Water Quality, and Supply, Flood Control, River and Coastal Protection Bond Act. Proposition 84 supports projects that reduce salinity and other pollutants released into the waters of the Delta, the artery of the state's water supply system and one of the most biologically diverse environments on the planet.
The project will also significantly offset groundwater pumping from the overdrawn groundwater basin beneath the Lodi area. Due to its proximity to the Delta, the groundwater basin is susceptible to saltwater intrusion, which can impact drinking water supplies and water quality. Demand is reduced on the groundwater basin by storing recycled water supplies within the expansion pond. Additionally, the stored water will help recharge the basin below, acting as a buffer against saltwater intrusion as well as sea level rise caused by climate change.
The City of Lodi is acting now to achieve regional sustainability and address future challenges like increased water demand, climate change, and maintaining water quality.
Wastewater flows entering the water pollution control facility can total up to 5 million gallons per day and are expected to increase to 8.5 million gallons per day over the next 30 to 50-year period. The new storage pond provides flexibility for Lodi to use stored recycled water and creates additional water supplies during dry years.
This project is an example of how local municipalities can utilize Proposition 84 funding for multi-benefit projects that will help preserve the Delta for current and future generations of Californians.
Contact:
Lauren Bisnett, Information Officer, Department of Water Resources
(916) 653-7564 | lauren.bisnett@water.ca.gov