Researchers Test New Approach to Improve Fish Habitat in Suisun Marsh
Published: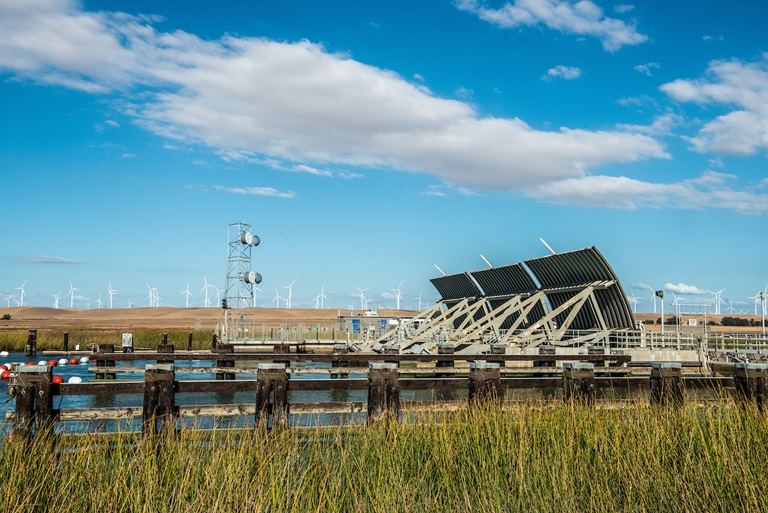 By Allen Young, Department of Water Resources
The Department of Water Resources (DWR) has embarked on a novel approach to boost the Delta smelt population in the Sacramento-San Joaquin Delta. Starting August 1, DWR will begin directing more fresh water flow into the vast Suisun Marsh, south of Fairfield, to preserve a habitat for the small endangered fish.
Salinity levels affect the smelt's distribution as smelt avoid excessively salty waters. When water becomes saltier in the summer, the smelt shift upstream away from the marsh.
In an effort to create a more hospitable habitat for Delta smelt, for the first time ever DWR will open its salinity control gates throughout the month of August to direct more fresh water flows for fish into the Suisun Marsh. The salinity gates aren't typically operated until fall and winter when they are used to minimize salinity in the marsh to create better habitat and food for migrating ducks and other waterfowl.
"By operating the gates a few months early, we can freshen the marsh to create a more hospitable habitat for the Delta smelt," said DWR Lead Scientist Dr. Ted Sommer. "Our hope is the smelt won't get pushed out by seasonal salinity intrusion from the Bay."
The Suisun Marsh is the largest brackish water marsh on the West Coast and is regionally and nationally recognized as an important wetlands area. Twice each day, the flood tide brings in salty water and the ebb tides bring in fresh water.
During this monthlong pilot project, DWR will open three salinity control gates twice a day for six hours during the ebb tide, allowing the marsh to fill with fresh water. The gates will be closed at other times during the tidal cycle. Delta smelt move with the tides as they swim through the Delta and Suisun Marsh.
Normally, the salinity gates are operated in mid-fall to help create fresh food for migrating waterfowl. The pilot project will examine whether expanded operations could improve conditions for Delta smelt and other fish. The project will examine smelt population and distribution, as well as measure elements vital to smelt habitat such as water quality, flow, plankton, and clams.
The pilot project is a collaboration of multiple agencies and organizations, including The Bay Institute, U.S. Fish and Wildlife Service, California Department of Fish and Wildlife, water contractors, and numerous other agencies who lent support.