DWR Video Goes 360°
Published: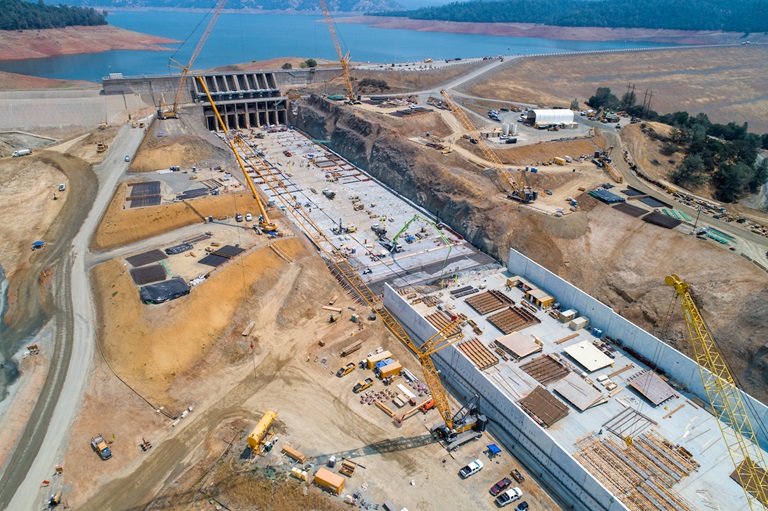 DWR's video team just produced a new video of the Oroville spillways reconstruction work offering the audience an opportunity to experience the content in 360 degrees.
360-degree videos are the latest tech that provide an experience as close to virtual reality as you can get from your desk. Using 360-degree video, you can control where to look – left, right, up and down. Even better, there's no need for a headset. Using your computer or mobile, you can simply use your finger or mouse to control the view.
DWR began producing weekly drone flyover videos of the spillway last August to provide an overview of the construction progress. This year, we're introducing the 360-flyover to provide a more interactive experience with dynamic views of the recovery effort. Thanks to the 360-degree technology, people watching the video can pan around and see the Oroville spillway construction site from different angles and vantages.
"DWR is continuing to push the envelope using the latest science, research, and tech and our video team is no exception, said Erin Mellon, assistant director of public affairs at DWR. "DWR was one of the first state agencies to use drones and now, we're probably the first to shoot in 360 to give the public an even more immersive experience. It's exciting to see how we can continue advancing our strategies as new technologies emerge to share our work with the public."
DWR created the video using an omnidirectional camera, the GoPro Fusion, mounted onto a drone that flies over the spillway. The 360-degree camera records two separate files that require stitching in post-production.
The Oroville spillway flyover videos are DWR's debut of 360-degree video, but we're looking forward to showcasing more of our work using this cool new tool.
Check out our 360-degree videos on DWR's Facebook page or YouTube Channel. Three 360-degree videos have been produced to date.