Be Flood Ready
Published: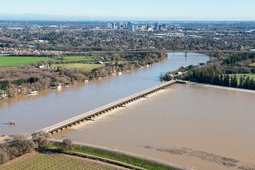 More than 7 million California residents are at risk of flooding, and many don't realize it. Flooding happens throughout the state, from rural communities to urban areas, at the base of hills, and along the coast. In fact, every California county has received a flood-related emergency declaration in the past twenty years. This year many communities are at additional risk for flooding because of wildfire damage. Flooding after fire is often more severe, as debris and ash left from the fire can form mudflows. Mudflows can cause considerable damage not covered by homeowner's insurance. If mudflows, however, are related to flooding then the
National Flood Insurance Program
flood may cover costs of damage. Please check with your insurance provider for details.
Be flood ready by following these steps:
Make an evacuation kit.
Make an evacuation plan. Familiar routes may not be accessible during a flood.
Stay informed during heavy storms.
Don't walk or drive through flood waters. Just 6 inches of moving water can knock you down, and one foot of moving water can sweep your vehicle away.
More information is available on our website.
You can watch videos on DWR's
YouTube page
.